The Siachen imbroglio continues to fester. India needs a cost-benefit analysis to determine whether Pakistan would move into occupied positions should India, in the event of demilitarisation of the area, vacate positions of advantage that it now holds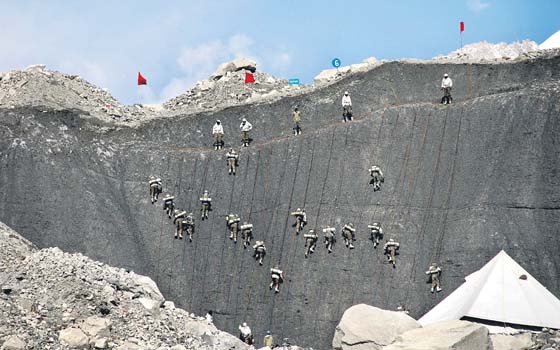 SPEAKING on the last Foundation Day function of the Institute for Defence Studies and Analyses, the Defence Minister, A.K. Antony, ruled out any possibility of de-militarising the Siachen Glacier, and re-stated India's inflexible position that it will only consider pulling back its troops after a joint India-Pakistan authentication is undertaken of the 109-km Actual Ground Position Line. Pakistan has opposed any such "authentication" as a pre-requisite to demilitarization.
The factual position is that India has gained physical possession of the Siachen Glacier. But the Line of Control, earlier called Ceasefire Line, ends at grid reference NJ9842 and beyond that point there is no legal boundary to demarcate the territory between India and Pakistan. Somewhat earlier, General Bikram Singh, India's Chief of the Army Staff, had voiced his opposition to Indian troops being withdrawn from this "strategically important" region. He had said that India "possesses positions of strategic importance and we have expressed our concern to the government. It's now for the government to decide." That was the surest way of ensuring that the jittery government would get paralyzed into inaction.
Indian Army personnel train at the Siachen Battle School prior to their induction into the world's highest theater of conflict. Tribune photo: Manoj Mahajan
The history of the three-decade long India-Pakistan confrontation in this "highest theatre of conflict in the world" is only too well known. Briefly, the Ceasefire Line that was demarcated after the Karachi Agreement in 1948 and the Line of Control that resulted after the Simla Agreement in 1972 terminates in its northern extremity at map coordinate NJ9842. Neither of these agreements mention who has possession or title to the land north of NJ9842, apart from vaguely noting that the boundary would proceed "north to the glaciers". Probably, the assumption was that no dispute could possibly arise over such a barren and inhospitable region, and that it would remain a neutral undisputed No-Man's Land.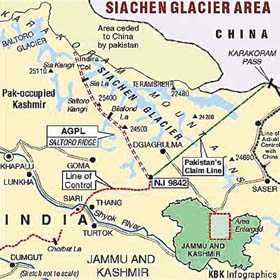 Historical perspective
Over to Saadat Hasan Manto. The tributes to Manto have flooded the liberal press in India and Pakistan as they celebrate his birth centenary. In truth, Manto belonged to neither India, where he was born on May 11, 1912, nor to Pakistan, where he died on August 18, 1954. He belonged to both countries. His conviction in the essential unity of the subcontinent is an essential aspect of his oeuvre that comes through in his haunting short stories that are truly vignettes of the violent times in which he lived his tragically brief life.
Manto excelled in a natural talent for structure and economy of words, racing ahead in his short stories to reach their final conclusion - denouement or surprise ending. A wry sense of humor led him to conclude his own epitaph with the words, "Under tons of earth he lies, still wondering who among the two is the greater short-story writer. God or he, Saadat Hasan Manto."