What went wrong? Cynically putting politics and polls ahead of economy and prosperity, and slavish obedience to political masters.
When a nation starts to descend into a crisis, the satire and ironic humour of its hapless citizenry begins to blossom. India is at that stage. Quiz questions like "What will hit Rs 100 first, a kg of onions, the dollar or a litre of petrol?" and funnies like "Nowadays, Indian exporters meet at Vivanta and importers at Sukh Sagar" and "If money is the root of all evil, then the rupee is the square root" are doing the rounds in Mumbai, our financial centre. On social media, adverts for engagement rings have replaced diamonds with onions, and jokes abound about the onion being a monetary unit larger than a trillion, and the rupee being replaced by the onion as legal tender. 
The desperation of the citizenry is clearly lost on the pol­i­cy­­makers in Delhi, whose every action is intensifying the country's financial misery and dark humour. The economic misma­n­agement of the past four years has been exacerbated in the last month by the raising of short-term interest rates, the bond market sell-off, mounting debts absorbed by the public sector banks, the food security bill, capital controls, gold import restrictions and the absurd taxes on imported television sets, among other actions.
Can this be reversed? Not if the so-called 'dream team' at the helm of India's economics continues in its misplaced labours. The team currently comprises Prime Minister Manmohan Singh, Montek Singh Ahluwalia of the Planning Commission, finance minister P. Chidambaram, economic advisor and former RBI governor C. Rangarajan and the new RBI governor and IMF economist Raghuram Rajan. While Manmohan Singh and Chidambaram have a record of reform, that is firmly in the past, and their good habits have not carried over into the present. Over the past decade, none of the current caretakers of India's economy have a landmark reform marked to their name; in the last year, this condition has become especially acute as the economic crisis has deepened.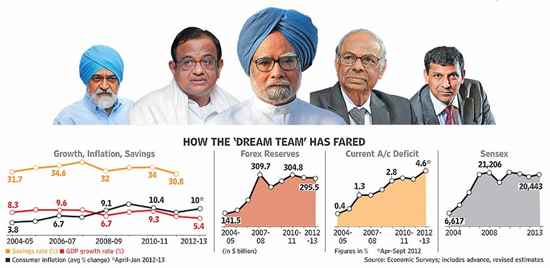 What has gone wrong? Cynically putting politics and electoral logic ahead of the economy and prosperity, and slavish obedience to political masters, for sure. But also plain poor leadership—and survival through a round robin of blame. The Planning Commission chair blames the finance minister, who faults the US Federal Reserve and our own Reserve Bank, which cites the limitations of its mandate, and looks to the prime minister who speaks so softly that he is inaudible even to his economic advisors whose counsel is contrary to their own previously proffered knowledge.