The tried and tested PSLV will serve as the launch vehicle.
It's baby steps to deep space. But the 400-million kilometres, 299-day, rs 450-cr voyage to Mars, set to launch on October 28, is also a leap of faith for ISRO, explains JOHNSON T A
Though science is at the core of their work, scientists at the Indian Space Research Organisation are a religious group. In the past, ISRO chairmen have been known to transport toy models of spacecraft and launch vehicles to temples around south India for blessings of gods. As work at over five different ISRO centres began converging this week towards the planned October 28 launch of the space agency's Mission to Mars, or the Mangalyaan Mission, religious rituals are back to the fore.
Ahead of the rollout of the spacecraft—the 1,343-kg main bus carrying the 15-kg Mars Orbiter—prayers were conducted for success and blessings were sought for the spacecraft.
Over the next three weeks, as final checks are conducted, 852 kg of solid and liquid fuel is loaded for rocket engines, the spacecraft is integrated with the launch vehicle and the final countdown is started, a core group of 50 scientists will be at work 24/7.
The scientists can be forgiven for invoking god this time. Once at the forefront of space-faring nations, India has fallen behind in recent years, with no commercial launches of note, failed missions—including experiments with the heavy lift Geosynchronous Satellite Launch Vehicle (GSLV)—and a scam embroiled ISRO.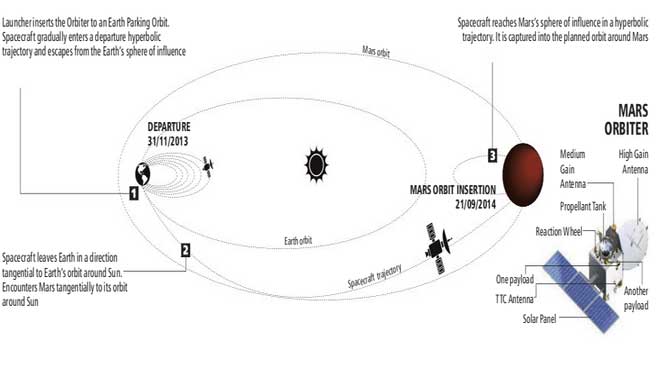 The Rs 450-crore Mars Orbiter Mission is being seen at the space agency as a chance at redemption. Despite its relative lack of novelty in global terms, the mission is a challenge for ISRO since it will be the agency's first attempt outside the sphere of influence of Earth. A Russian-Chinese joint attempt to send an orbiter to Mars failed in November 2011 after the spacecraft failed to leave Earth's orbit and crashed back.