Delivery of a new aircraft carrier caps a mostly impressive year for the Indian Navy.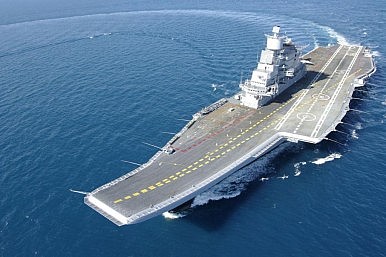 On November 16, the Indian Navy finally took delivery of aircraft carrier INS Vikramaditya, formerly the Adm. Gorshkov, at Sevmash Shipyard in northern Russia's Severodvinsk town. The acquisition marks a new phase in India's quest to become a true blue-water navy.
The handover ceremony of the 44,570-tonne carrier is sure to have generated more than a passing interest within the PLA Navy and across the rest of the continent, since India will be the only country in Asia to have two aircraft carriers in its fleet. Admittedly, the 55-year old INS Viraat is "long in the tooth" as India's Navy Chief Admiral D. K. Joshi himself described it in a recent interview, but it will continue to operate until India's locally built carrier INS Vikrant becomes operational by 2017. 
At the moment, only the U.S. Navy brings that sort of capability to Asia. Although it is coming five years late – the original delivery was scheduled for 2008 – the Vikramaditya will give India the ability to project raw naval power in its "near abroad" as well as in its extended neighborhood. With a capacity to carry two dozen Mig-29 K fighter jets and 10 Kamov helicopters at any given time on board and fitted with the latest sensors and missiles, the brand-new aircraft carrier will boost the Indian Navy's firepower significantly.
But the Vikramaditya is not the only reason why the Indian Navy feels upbeat about its future capabilities. Naval aviation, long treated as a poor cousin of surface combatants in the Indian Navy, is exhibiting some new chutzpah of late. Days before Defence Minister AK Antony and flew to Russia with Joshi, the nation's Defence Acquisition Council approved the purchase of four more Boeing P8I maritime patrol and antisubmarine aircraft in addition to the eight already contracted. The first of these eight planes was in fact parked at INS Dega airfield for everyone to see when Joshi formally inducted the newly acquired Advanced Jet Trainers Hawks into the Navy, to take training of Naval fighter pilots to the next level. Thesecond P8I landed in India on November 15.