| | | | |
| --- | --- | --- | --- |
| | | | Aftermath of the rioting in Little India |
Source Link
Singapore's normally ordered society has been shaken by the rioting last weekend.
By Kirsten Han
,
December 14, 2013
Sakthivel Kumaravelu was killed last Sunday after being run over by a bus ferrying migrant workers from Little India – a messy, diverse and vibrant part of Singapore with a large number of South Asian shops and restaurants – back to their dormitories. The details of the accident are still murky, but the death of the 33-year-old man triggered the first riot seen in Singapore in more than four decades.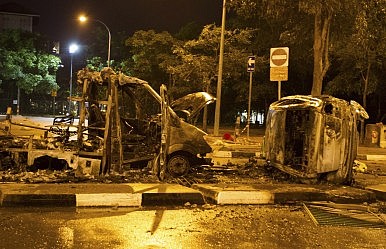 Police cars and ambulances were attacked, some even torched. Eighteen people, including police officers and other emergency service personnel, were injured. Although quelled in an hour, the episode has shocked Singapore and produced another blemish on this prosperous island nation's shiny track record.
The government has been eager to spin this as a one-off drunken mob. Two Cabinet ministers were quoted saying that alcohol could have been a "contributory factor," and a temporary alcohol ban is being imposed. Police have been given the powers to take action against anyone seen consuming alcohol in the area. The local mainstream media has also focused on the angle of alcohol abuse among South Asian migrant workers.
Yet this narrative does not obscure the fact that in recent years many events that might not be considered "the Singapore way" have begun to occur. In November 2012, more than a hundred bus drivers for public transport company SMRT went on strike – the first in 26 years. In February 2013, a protest against the Population White Paper drew over 3,000 people, and organizers dubbed it the largest political protest in Singapore's independent history. A follow-up protest in May again drew a significant crowd. The riot in Little India is simply the latest in a series of surprises.
These occurrences all had different triggers and involved different groups within the population. They might not be directly connected to one another, but they all draw attention to the possibility that there's more behind the city-state's carefully manicured image of wealth and order.