Last updated on: October 4, 2012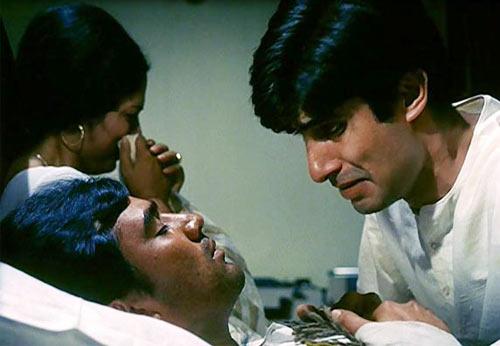 One of Indian cinema's biggest icons Amitabh Bachchan turns 70 on October 11. We celebrate the superstar in a series of special features dedicated to him, starting today.
To think All India Radio didn't find his voice suitable enough to offer him work.
Whether they rue that decision or not is immaterial, what's significantly ironical is just how celebrated this rejected feature of Amitabh Bachchan's legendary persona went on to become.
In a stupendously quotable filmography lasting over five decades, AB's sturdy dialogue delivery has entertained, engaged, enticed and become inspiration for mimicry and tribute.
Whether he's dispatching threats towards his enemy, making comical observations, oozing poetry for his beloved, babbling philosophy in a drunken state, demonstrating an emotional outburst or merely introducing himself, Bachchan is the undisputed champ of dialoguebaazi.
Picking some of his most famous lines is trickier than it looks. There are simply too many to choose from. I could quite easily shortlist 10 from Deewar alone and so restraining myself to a single dialogue per movie policy.
Here then, are 25 memorable onscreen quotes of the spectacular Indian superstar.
P:S: Join in the fun. Post your favourites on the message board.
Anand mara nahi, Anand marte nahi.
Anand (1971)
Rajesh Khanna may have had the author-backed role and some of the most profound words but it's this succinct last line of Anand in AB's insightful tone that sums it best.
Zanjeer (1973)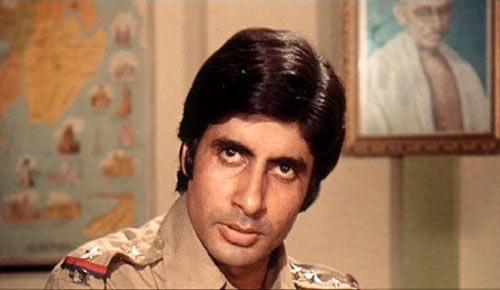 'Jab tak baithne ko na kaha jaaye sharafat se khade raho. Yeh police station hai tumhare baap ka ghar nahi'.
And it is with this unforgettable display of aggression, the 'angry young man' phenomenon was launched.
Deewar (1975)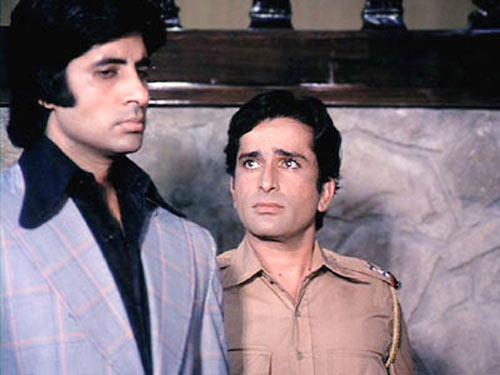 'Main aaj bhi phenke hue paise nahin uthata'.
Salim-Javed's script about a wronged man taking to the wrong side of the law but never quite compromising with his dignity is loaded with immortal lines. It's the sheer simplicity and attitude of Bachchan's admission here that makes this one my favourite.
Sholay (1975)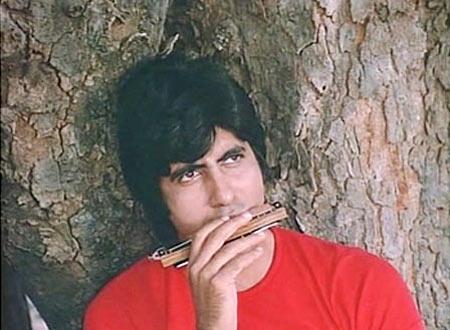 'Tumhara naam kya hai, Basanti?'
While it doesn't say much for chatterbox Basanti, this droll inquiry by AB underscores his wry humour splendidly.
Chupke Chupke (1975)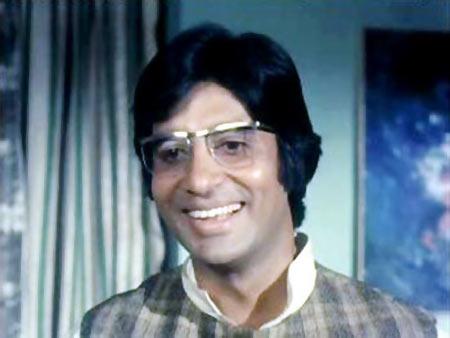 'Gobhi ka phool, phool hokar bhi phool nahi, sabzi hai. Isi tarah gende ka phool phool hokar phool nahi hai'.
Clearly our man isn't fibbing when he insists, 'Botany ka B bhi nahi jaanta.'
In this Hrishikesh Mukerjee comedy of confusion, Bachchan's bumbling track with wife Jaya leads to many a hilarious moments. But the on-the-spot logic to connect marigold with cauliflower is priceless.
Kabhi Kabhi (1976)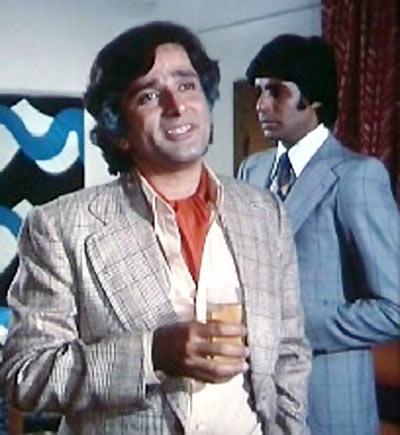 'Badi himmat chahiye, Vijay Sahab, bada hausla chahiye iske liye. Daag daaman pe nahi dil pe liya hai maine'.
There's something timelessly classy about Kabhi Kabhi. And this heartfelt exchange between Raakhee's men -- AB, representing the brooding beau from the past and Shashi Kapoor, the magnanimous life partner stunningly reiterates that.
Amar Akbar Anthony (1977)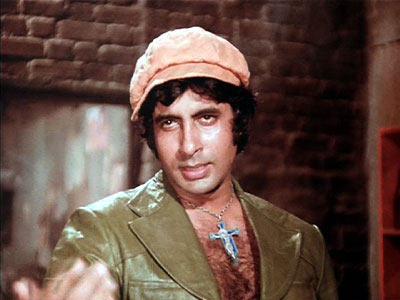 'Aisa toh aadmi life mein doich time bhaagta hai. Olympic ka race ho ya police ka case ho. Tum kisliye bhaagta hai, bhai?'
Good ol' Anthony Gonsalves -- one of the most adorable and goofy characters played by Bachchan under Manmohan Desai's direction.
Don (1978)
'Don ka intezar toh gyaarah mulkon ki police kar rahi hai. Lekin Soniya, ek baat samajhlo Don ko pakadna mushkil hi nahi, namumkin hai'.
Can dialogues be stylish? If so, this one certainly is. The sleek confidence with which AB shrugs off looming danger is just so cool. Bet even Shah Rukh Khan agrees.
Trishul (1978)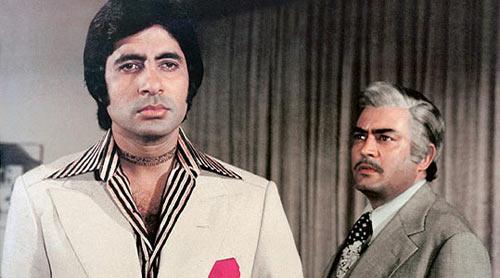 'Aaj aapke paas aapki saari daulat sahi lekin aapse bada garib maine zindagi main nahi dekha.'
The art of whistling comes in handy when AB's scornful Vijay takes on the silver screen and a sheepish Sanjeev Kumar with explosive Salim-Javedisms like this one.
Muqaddar Ka Sikandar (1978)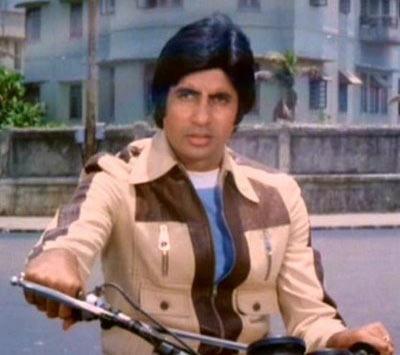 'Sikandar kabhi kanoon ko apne haath mein nahi leta. Aur waise bhi main isse yahan nahi maarne wala tha. Yeh mera ilaaka hai. maar khaane ke baad yeh mujhe badnaam karta ke Sikandar ne apne mohalle mein bulake peet daala. Nahi isse toh main iske ghar mein hi jaakar maroonga'.
If Bachchan's Sikandar is to be believed, hostility has rules too. But what's amusing is just how matter-of-factly he reveals his plan to bash the bad guy in his own house.
'Mr Natwarlal' (1979)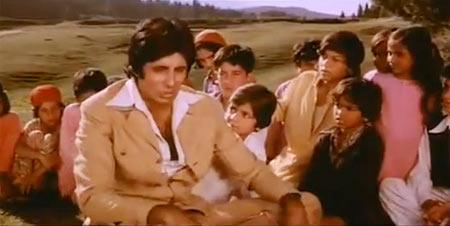 'Arre yeh jeena bhi koi jeena hai, Lallu?'
Part of his story-in-a-song narrative, Mere Paas Aao, showcasing Mr Natwarlal's entertaining antics to a bunch of curious tots, his question to Lallu quite easily caught on as a popular catchphrase in popular speak.
Yaarana (1981)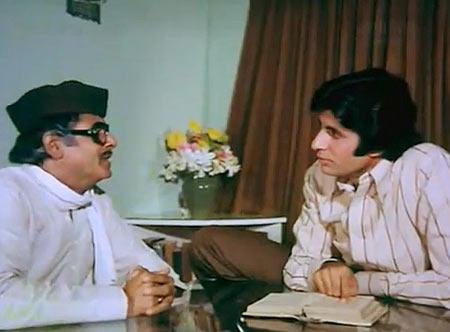 'Kacha papad, pakka papad'.
Trust AB to make a statement with anything, including papads. Remember the iconic tongue twister from Yaarana he comes up with in an attempt to hold off his Hindi tutor from another recital of 'Jandagi mein'?
Sisila (1981)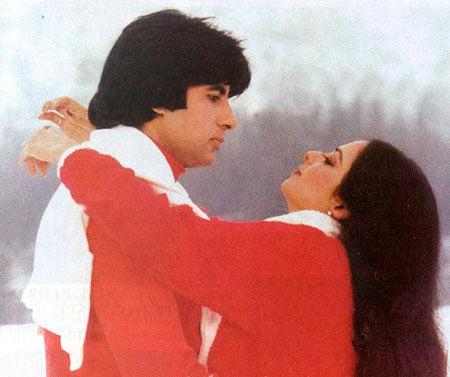 'Main aur meri tanhai aksar yeh baatein karte hain. Tum hoti toh kaisa hota'.
Even his lyrical musings while taking a lone stroll in Yash Chopra's scenic love triangle in Silsila caught the fancy of fans with gusto. Just a hint of that baritone and it's not so hard to understand why.
Kaalia (1981)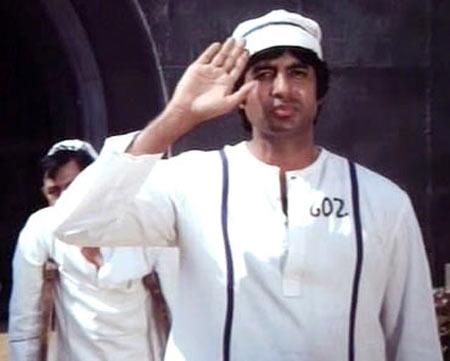 'Hum bhi woh hai jo kabhi kisi ke peeche khade nahi hote. Jahan khade ho jaate hain, line wahin se shuru hoti hai'.
Although this line from Kaalia was first uttered in the heavy accent of Bob Cristo, it's Big B's swaggering delivery that elevated its level from mind-blowing to mega.
Namak Halal (1982)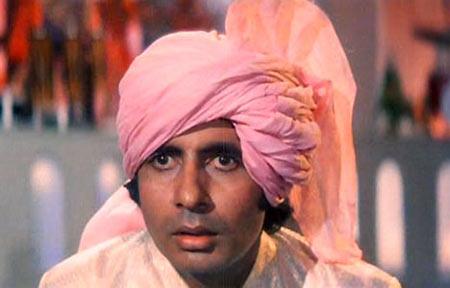 'Lo kallo baat. Arre babuji, aisi English aave that I can leave angrez behind. You see sir, I can walk English. I can talk English. I can laugh English. Because English is a very phunny language. Bhairon becomes Baron and Baron becomes Bhairon because their minds are very narrow.'
What's there to explain? Just sit back and enjoy an animated Bachchan at his prattling best. So very phunny, right?
Satte Pe Satta (1982)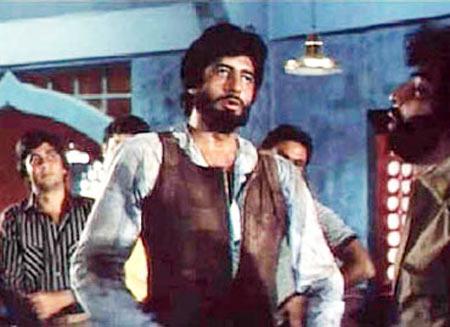 'Chain khuli ki main khuli ki chain.'
Whatever on earth that means, it sure as hell is catchy! As the war cry phrase of the Satte Pe Satta brothers led by the lanky AB Sr, Chain khuli ki continues to enjoy its place in the sun.
Shakti (1982)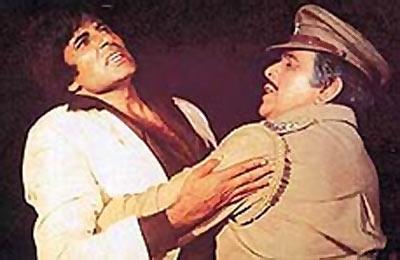 'Koi sawaal nahi chahiye. Akela jee sakta hoon toh akela mar bhi sakta hoon. Meri maa ko maar diya usne. Yeh wohi aadmi hai jisne meri maa...Yeh toh hona hi tha ek na ek din yeh toh hona hi tha lekin ab sab khatm ho gaya. Bahut koshish ki apne dil se aapki mohabbat nikal doon lekin mein hamesha aapse pyaar karta raha. Chaha kin a karoon lekin aisa kyun, kyun aisa?'
If he could fall apart and breathe his last in his Maa's lap, AB showed equal adeptness at dying in his father's arms while extracting our sympathy by delivering some heartfelt last words on screen. Shot down by his cop father (Dilip Kumar), his Vijay is angry, needy and regretful while conveying his affections to the former.
Coolie (1983)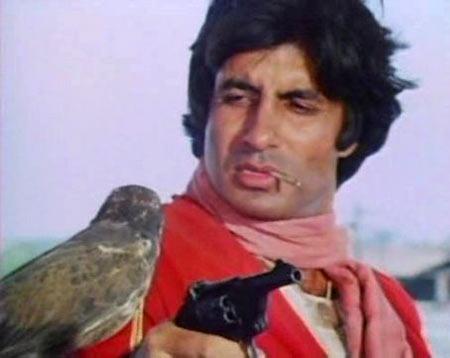 'Bachpan se hai allah ka haath aur allah rakha hai apne saath. Baazu pe hai saat sau chiyasi ka billa, bees number ki beedi peeta hoon, kaam karta hoon coolie ka aur naam hai Iqbal. Jiske sar pe haath pade bache na uska ek bhi baal.'
Few can pull off this pompous Kader Khan penned introduction with the ease and splendour AB does in Coolie. If only its memories weren't synonymous with the actor's near fatal injury.
Sharaabi (1984)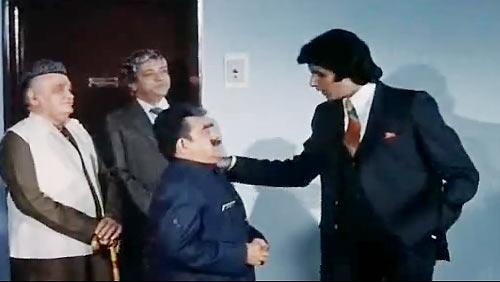 'Moochein ho toh Nathulal ji jaisi ho warna na ho.'
Mard (1985)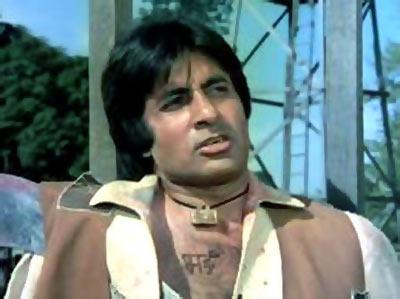 'Jo mard hota hai usse dard nahi hota.'
Big B's chauvinist proclamation led quite a few macho types and yet-to-hit-puberty boys to mark Mard on their chest in this kitschy Manmohan Desai offering.
Aakhree Raasta (1986)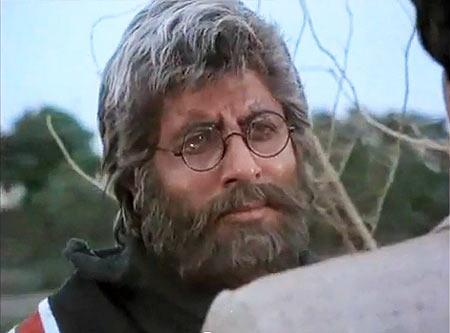 'Wahan se tumhe yeh cheh dikh raha hoga. Lekin yahan se mujhe yeh nau dikhta hai. Yeh farq is liye hai kyonki tum isse apni jagah se dekh rahe ho aur main apni. Hum dono apni apni jagah sahi hain. Bas humare dekhne ka nazariya alag alag hai. Hum dono ki beech mein yeh farq saari zindagi bana rahega. Isliye tum wohi karo jo tum apna farz samajhte ho. Aur main wahi karoonga jo main apna dharam samajhta hoon. Agar main jeeta toh tumhe apne pitah pe garv hoga. Lekin kahin agar tum jeet gaye toh mujhe bhi apne bete pe garv hoga lekin meri aatma ko shanti nahi milegi.'
AB essayed a double role in the remake of Tamil revenge drama, Oru Kaidhiyin Diary . And one of its most effective scenes in the graveyard, featuring a father-son faceoff, puts forth some weighty argument from the senior fellow.
Shahenshah (1988)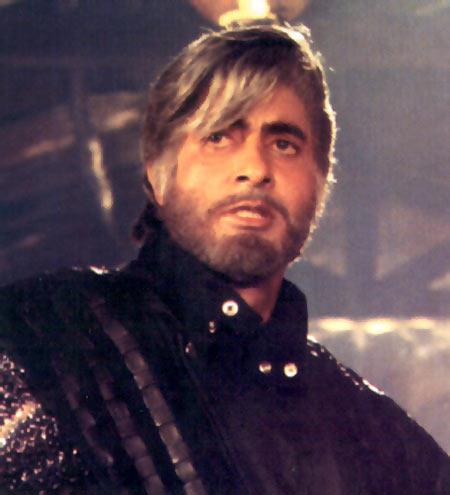 'Rishte mein toh hum tumhare baap hote hain, naam hai Shahenshah.'
No scoundrel can save face after being thrust with an introduction like that. All hail the desi Dark Knight!
Agneepath (1990)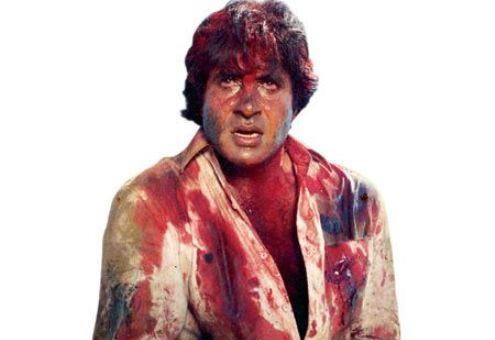 'Vijay Dinanath Chauhan; poora naam, baap ka naam Dinanth Chauhan, maa ka naam Suhasini Chauhan, gaon Mandwa, umar chhattis saal, nau mahina, aath din, yeh solvaan ghanta chal rahela hai... haain?'
And the tradition of kick ass introductions continues as AB shows us what being a superstar is about while divulging his personal details in Mukul Anand'sAgneepath.
Hum (1991)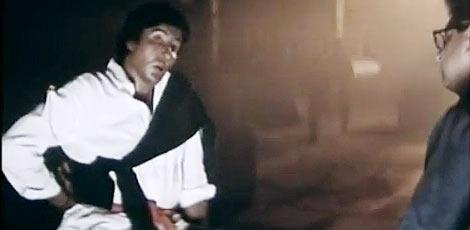 'Is duniya mein do tarah ka keeda hote hai. Ek woh jo kachre se uthta hai. Aur doosra woh jo paap ki gandegi se uthta hai. Kachre wala keeda insaan ko bimaar kar deta hai. Magar paap ki gandegi ka keeda saare samaaj ko bimaar kar deta hai. Kachre ke keede ko maarne ke liye flit bazaar mein milta hai. Magar paap ke keede ko marne wala flit, saala, bana hi nahi hai aaj tak.'
Like his inebriated Ravi in Satte Pe Satta restating 'Daru peene se liver kharab ho jaata hai', Big B goes on and on about creepy crawlies to make a point on the types of evil and warn his friend (Romesh Sharma) about a potential threat to his life in the multistarrer Hum.
Mohabbatein (2000)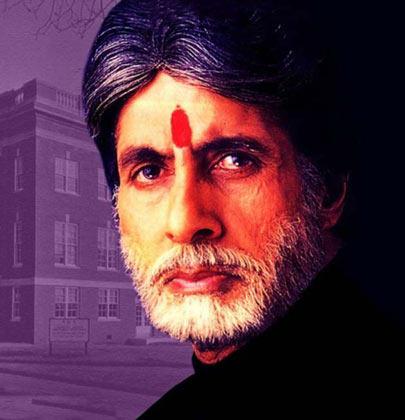 'Parampara, Pratishtha, Anushasan. Yeh iss gurukul ke teen stambh hai. Yeh woh aadarsh hain jinse hum aapka aane waala kal banaate hain'.
The contrived, gooey sentiments of Aditya Chopra's Mohabbatein offer some consolation by way of a rock solid Bachchan playing the stern, disciplinarian principal. And his dynamic opening speech to the students explains why he is not to be messed with.