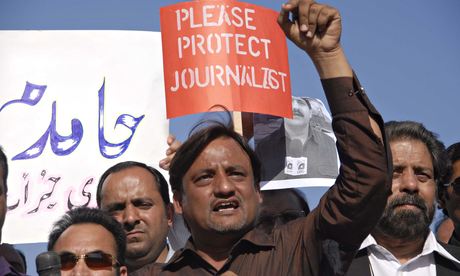 April 30, 2014
Jon Boone
The Guardian
,
April 29, 2014
Pakistani journalists protesting the recent attack on Geo television journalist Hamid Mir in Islamabad. Photograph: Anadolu Agency/Getty Images
Amnesty International says it has "credible concerns" that Pakistan's powerful military spy agency kidnaps, threatens and even kills journalists who cross it.
The allegations come amid an unprecedented public standoff between the Directorate of Inter-Services Intelligence (ISI) and the country's biggest media group over an attempt by unknown gunmen to kill Hamid Mir, a popular journalist on the Geo television network.
In a detailed report, the human rights group says journalists face extraordinary challenges in Pakistan, including deadly threats from banned militant groups and the armed wings of political parties. But Amnesty says it found that "no state actor is more feared by journalists than the ISI".
Dozens of journalists complained to the rights group of "harassment, intimidation or attacks" they claimed they had experienced at the hands of the spy agency.
Many gave information about harassment on the understanding it would be made public only if they were killed or kidnapped, such is the prevailing fear of reprisals from an agency believed to be among the most powerful organisations in the land.
Amnesty says journalists are particularly at risk when exposing security lapses by the military, or the army's alleged links to banned military groups such as theTaliban. Also highly sensitive are stories about abuses committed by security forces fighting separatist rebels in the province of Balochistan.
It also reviewed evidence relating to the death of Saleem Shahzad in May 2011after the investigative reporter had published pieces for a foreign website alleging the army had been infiltrated by al-Qaida. He had privately claimed to Human Rights Watch that he had received a "murder threat" from an ISI officer.
His badly beaten body was recovered in a ditch outside Islamabad two days after he disappeared while driving the short distance from his house in a heavily guarded area of Islamabad to a television studio.
Police said no one saw Shahzad's car on the day of his disappearance but Amnesty says in its assessment that it was "close to impossible" for his car not to have passed through the various police checkposts around his house.
A security official said the fact that Shahzad was picked up in Islamabad "in no way is proof that a Pakistani security or intelligence agency was involved".
The ISI has been accused of using threats to scare the media off sensitive topics, but the detailed report from a big human rights organisation will add fuel to the vicious war of words raging between Pakistan's media companies.
Many of Geo's commercial rivals have turned on the market leader after it aggressively aired claims after the shooting of Mir on April 19 that their lead anchor had been targeted on the direct orders of the ISI chief, General Zaheer-ul Islam.
The hugely popular news channel and its high circulation newspapers have somewhat backed away from that initial claim, but it has continued to lambast the ISI, with Mir maintaining that he had received threats from the agency over his outspoken coverage of sensitive issues, including Balochistan.
The allegations have outraged the army, which demanded that the media regulator withdraw the channel's licence to operate. The company's products have also been boycotted in army facilities around the country.
There have been bizarre public outpourings of support of questionable spontaneity for the spy agency, including a poster campaign declaring the nation's love for the ISI.
Rival broadcasters have been happy to accuse Geo of treason and of effectively working in cahoots with Pakistan's enemies to undermine a vital national institution.