Trade relations won't make China soften its border claims
G Parthasarathy
Source Link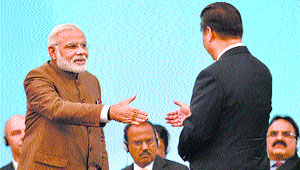 Prime Minister Modi shakes hands with Chinese President Xi Jinping during the BRICS Summit in Brazil on Tuesday. AFP
ADDRESSING an election rally in Arunachal Pradesh on February 22, Mr Narendra Modi called on China to shed its "mindset of expansionism". He averred: "Arunachal Pradesh is an integral part of India and will remain so. No power can snatch it from us. I swear in the name of this soil that I would never allow this state to disappear, break down, or bow down. China should shed its expansionist mindset and forge bilateral ties with India for peace, progress and prosperity of both nations". China made the predictable noises, with Prime Minister Li Keqiang congratulating Mr. Modi on his appointment and President Xi Jinping sending his Foreign Minister Wang Yi with a personal message of greetings.
Did these gestures signal any substantive change in China's policies, either on its outrageous territorial claims on Arunachal Pradesh or the continuing intrusion of its troops across the Line of Actual Control? The answer is clearly in the negative. Just on the eve of Vice-President Hamid Ansari's visit to the Middle Kingdom, China published yet another official map depicting Arunachal Pradesh as its territory. While the UPA government had claimed that new "mechanisms" had been agreed upon to curb cross-border intrusions, the intrusions continued.
Any talk of a more robust military response to Chinese adventurism is ill-advised. The NDA government has inherited a situation where our armed forces are inadequately equipped and lacking in numbers. It would take a minimum of five years before the armed forces are adequately equipped and manned to be able to present a more self-confident response to Chinese adventurism. New Delhi should, however, now reorient its diplomacy by taking note of the fact that Chinese assertiveness is directed not only against India, but also towards all its maritime neighbours with unilateral declarations on delineation of its maritime boundaries.
Just as China's claims on Arunachal Pradesh have no legal or historical basis, its claims on its maritime boundaries with all its maritime neighbours are in violation of the UN Convention on the Laws of the Seas. China has used force to seize disputed islands claimed by the Philippines and Vietnam and to explore for offshore oil and gas. Tensions with Japan are escalating because of China's claims to Senkaku Islands, controlled by Japan since 1894. China's unilateral declaration of an "Air Defence Identification Zone" beyond its borders has been rejected by South Korea and Japan. Its territorial claims on its maritime borders face challenges from South Korea, Taiwan, Japan, Vietnam, the Philippines, Brunei, Malaysia and Indonesia.
Yet another major source of concern is the Chinese policy of "strategic containment" of India, primarily based on enhancing Pakistan's nuclear weapons, missile, maritime, air power and army capabilities. This is an issue which India, rarely, if ever, highlights either bilaterally, or internationally. This policy of "strategic containment" through Pakistan has been reinforced by China's readiness to provide weapons and liberal economic assistance to all of India's SAARC neighbours. Worse still, bending to Chinese pressure, India has periodically avoided joint military exercises with Japan and the US.
A measured response to Chinese "containment" will be for India to step up military cooperation with Vietnam, including the supply of Brahmos cruise missiles, which can enable Vietnam to counter Chinese maritime bullying. This would be an appropriate answer to China's unrestrained military relationship with Pakistan. Given the fact that Russia is a major arms supplier to Vietnam, President Putin's concurrence can surely be obtained for such missile supplies to Vietnam. Russia has, after all, given its concurrence to China's supply of Russian-designed advanced RD 93 fighter aircraft engines to Pakistan.
Will growing trade relations with China soften its border claims, or its "strategic containment" of India? Bilateral trade with China today amounts to around $66 billion, with India facing a growing trade deficit, currently of around $29 billion. China's annual bilateral trade with Japan amounts to $314 billion and that with South Korea $235 billion. China is also the largest trade and investment partner of Vietnam. Both Japan and South Korea have substantial investment ties with China. Despite this, China has remained unyielding in its territorial claims on these countries. It has not hesitated to use force and threatened to cut its investment ties with Vietnam after recent tensions. To believe that China will embark on a path of reason on border issues because it sells a few bullet trains and invests in infrastructure in India would be, to put it mildly, naïve. On the contrary, India needs to ensure that unrestricted, duty-free access to Chinese products in areas like energy and electronics, does not adversely affect indigenous development and production, or undermine energy, communications and cyber security.
While dialogue and economic cooperation and interaction with China in forums like BRICS and G20 are mutually beneficial, we should review our approach to border issues with China. China has no intention of exchanging maps specifying its definition of the Line of Actual Control, either in Ladakh or Arunachal Pradesh. India should now insist that the border issue has to be resolved in accordance with the "guiding principles" agreed to in 2005. The boundary has to be along "well defined and easily identifiable natural geographic features". Secondly, any border settlement should "safeguard due interests of their settled populations in the border areas".
Proceeding according to these "guiding principles" enables India to reinforce its claims that the border lies along the Karakoram Range in Ladakh and McMahon Line in Arunachal Pradesh. Given China's agreement to safeguard the "interests of settled populations," its claims to Arunachal Pradesh are untenable. Moreover, with the Dalai Lama now clarifying he no longer seeks an independent Tibet, India should not hesitate to state that it hopes the Tibetan issue is settled in accordance with the 17-point 1951 agreement between the Chinese authorities and the Dalai Lama. This agreement acknowledges Chinese "sovereignty" in Tibet, while respecting the freedom of religion and the "established status, functions and powers of the Dalai Lama".