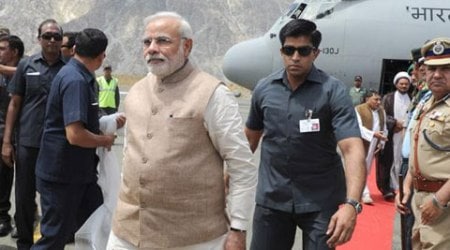 Prime Minister Narendra Modi arrives at Kargil, J&K. (Source: PIB)
Modi said the Indian armed forces were suffering more casualties from terrorism than from war.
Prime Minister Narendra Modi on Tuesday came out strongly against Pakistan for continuing its proxy war of terrorism against India, saying it has lost the strength to fight a conventional war.
Addressing troops of Army and the Indian Air Force on his maiden trip to Leh and Ladakh, Modi condemned the continuing proxy war by Pakistan.
"The neighbouring country has lost the strength to fight a conventional war, but continues to engage in the proxy war of terrorism," he said.
The Prime Minister said the Indian armed forces were suffering more casualties from terrorism than from war.
Addressing Army and Air Force personnel drawn from various formations at Leh, the Prime Minister said, "It is unfortunate that our neighbour's attitude… they have lost the power to fight a war but they use proxy war. There has been a process of killing innocent people through this proxy war. How many innocents are being killed? The number of people getting killed through the bullets of cowards is more than those killed in conventional wars."
"The Indian armed forces are suffering more casualties from terrorism than from war," he said. Terming terrorism as a global problem, he said all "humanitarian forces of the world should unite to fight it". "India is committed to strengthening and uniting these humanitarian forces," Modi said.
The sharp attack on Pakistan came two months after Modi assumed office and came in the midst of his peace initiatives. He had invited Pakistan Prime Minister Nawaz Sharif and other SAARC leaders for his swearing-in on May 26.
Flanked by Chief Minister Omar Abdullah, Governor N N Vohra, Army Chief Dalbir Singh and National Security Adviser Ajit Doval, Modi also spoke of modernisation of the Army. He said India is committed to strong armed forces, well-equipped with modern arms and technology.
Boosting the morale of the forces, he said the entire country supports the soldiers who remain focused in spite of the many struggles their families face in day-to-day life. "This energy and sense of duty inspires me and therefore, I keep on visiting jawans on the border to seek inspiration," he said.
From Leh, Modi went to the Muslim-dominated Kargil, where he addressed an impressive rally at Thi Sultan Cho stadium, the first by a Prime Minister after the Kargil war. Modi recalled the days when he visited the place during the Kargil war, but he did not mention Pakistan.
"I had come to this place earlier also. Today I am hearing cheers from the crowd, but when I came to this place as a BJP worker, guns were booming from across the border and we only could hear the blasts of guns and shells. I have seen the generosity of the people of Kargil. They offered everything to me free of cost and never charged a single penny. They told me that they are doing it as a service towards the nation," Modi said amid applause from the crowd.
Modi told the gathering that during the Kargil war the help provided by the local population to soldiers raised their morale. "I have seen how civilians celebrated the victory of Tiger hill and Tololing and the patriotism of the people of Kargil inspires the people of India," he said.
Talking about development in the region, Modi said he had reviewed the road connectivity project of Kargil and Leh and Rs 8,000 crore will be provided for this project. "We are committed to enhance the connectivity of this region and want to see development taking place here," he said, adding that government is committed to opening new educational institutions in the region. "The youth of Kargil should compete with youth of other states in every field and we are committed to open avenues of education for the Kargil youth," he said.
Modi said Jammu and Kashmir has tremendous potential for growth. "I will try to solve the problems faced by the people of J&K region one by one," he said.
He said that 20 per cent people in the state are displaced. "We have to give opportunities to these displaced people by providing them employment and other amenities. Whether they are two lakh refugees from West Pakistan, one lakh of Chamb, four lakh Kashmiri pundits and 8 to 10 lakh people in Kashmir who got affected due to militancy… we have to take all the steps to rehabilitate them."
Modi said he wanted to fulfil the dream of former PM Atal Bihari Vajpayee. "Our former PM, Atal Bihari Vajpayee, had a dream for J&K and I want to fulfil his dream," he said.
Earlier, Modi also addressed a rally in Leh, where he stressed on three Ps — Prakash (energy), Paryavaran (environment) and Paryatan (tourism). "These three Ps can help us improve the region," he said. PM said for solar energy, the Centre has allocated funds to Ladakh and said that Centre has proposed 83 projects in this year's budget. "There was a time when PMs never visited this state. I have come here two times already. Your affection draws me here. I know the problems people face and most importantly I know the strength of this land."
In Leh, Modi inaugurated the transmission line which will connect the Ladakh region with the country's northern grid. He also inaugurated the Nimoo Bazgo Hydroelectric Project, which is located on the Indus.
Chief Minister Omar Abdullah, while thanking the Prime Minister for announcing full funding of Zojila Tunnel, said this tunnel is the cherished desired of the people of Kargil. He said till the time this tunnel is completed, there is an urgent need that Kargil is provided the facility of commercial airlines. He also mentioned the immediate need of land for the expansion of Kargil town and sought the Prime Minister's support for providing part of the Khurbathong Plateau for this purpose which is under the use of the Army.