Latin America recognises India's importance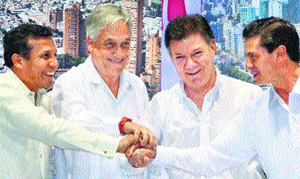 The leaders of Peru, Chile, Columbia and Mexico join hands at the Pacific summit at Cartagena in Columbia on February 10.
ON February 11 India was too immersed in domestic politics to notice an event halfway around the world. The VIII Summit of the Pacific Alliance in Cartagena, Colombia, granted India observer status in this nascent but rapidly evolving economic bloc.
The summit was attended by the Presidents of the four member states - Mexico, Colombia, Peru and Chile - who agreed upon the Pacific Alliance in 2010 and formalised it in 2012. With a combined population of 212 million in 2013, these relatively high-growth economies account for 36 per cent of Latin America´s GDP; 50 per cent of its foreign trade; and 41 per cent of its foreign direct investment. The alliance collectively constitutes the eighth largest economy in the world and the seventh largest in export terms. Its external trade amounts to well over a trillion dollars.
The formation and consolidation of the alliance owes a lot to recent political developments and trends in Latin America. In particular the emergence, in 2004, of the anti-US left-wing Bolivarian Alliance of the Americas, spearheaded by Venezuela and doctrinally guided by Cuba. The Pacific Alliance makes no pretence of its ambitions to open markets within and without. Countries seeking membership -- currently Costa Rica and Panama - must have free trade agreements with all other members.
The geographic coincidence of the four like-minded political economies on the Pacific coast of the region also juxtaposes the alliance against the more centrist, traditional, slow-moving MERCOSUR (Southern Common Market) on the Atlantic. Formed in 1991 by Brazil, Argentina, Paraguay and Uruguay, MERCOSUR admitted Venezuela in 2012. It finds itself in a predicament, afflicted by conflicting priorities, unable to negotiate trade agreements as a bloc. Internal squabbles also affect trade and investment between members