Though India deploys one of the strongest naval forces in the region and has a true blue water navy, it is not yet a maritime power with the indispensable components of a large shipbuilding industry, modern port handling facilities and a large merchant shipping fleet. The government is seeking to address these shortcomings 
Shyam Saran
WHILE India appears to have a naval strategy, it does not as yet have a maritime strategy. It will be sometime before the country graduates from being a naval power to a true maritime power. Alfred Mahan had observed that a truly powerful nation must have a thriving international trade, a merchant fleet to carry these goods and a strong navy to protect its sea lanes. India has a thriving international trade, but only 11 per cent of its foreign trade is carried in Indian ships. Furthermore, Indian shipbuilding industry has actually declined over the years. Currently, shipbuilding in India by deadweight tonnage (DWT) is only one per cent of the total world shipbuilding, whereas China's is 35 per cent. India's port handling capacity is also limited although this is being augmented. As a result of inefficient port-handling capacity and lack of direct shipping links with major markets, India's share of global shipping is only one per cent of the overall DWT worldwide. By contrast, 35 per cent of all shipping today originates from China and there are 9 Chinese ports in the list of the world's top 15 ports, with Shanghai the world's largest container port.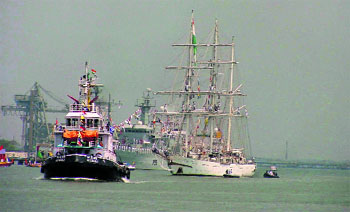 India's naval footprint is expanding at a time when China is emerging as a major naval and maritime power. Tribune photo: Manoj MAhajan
A large part of India's overseas trade has to be transhipped because of lack of adequate port handling capacity as well as regular and direct shipping links with major ports of the world. Of the transshipped cargo, 4 per cent passes through Dubai, 35 per cent through Colombo, 29 per cent through Singapore and 15 per cent through Klang (in Malaysia).
Thus, though India deploys one of the strongest naval forces in the region and has a true blue water navy, it is not yet a maritime power, with the indispensable components of a large shipbuilding industry, modern port handing facilities and a large merchant shipping fleet. The government is seeking to address these shortcomings:
The Maritime Agenda, 2010-2020 aims at building port-handling capacities to 3.2 billion tonnes by 2020. In order to encourage the building of modern ports and handling facilities, the government is allowing 100 per cent FDI under the automatic route for projects relating to the construction and maintenance of ports and harbours. There is also a 10-year tax holiday. The shipbuilding industry is similarly being incentivised through government support.
The Indian Maritime University was set up as a Central University in 2008, with HQs at Chennai but campuses at Chennai, Kolkata, Mumbai, Vishakhapatnam, Cochin and Kandla. The campus at Vizag is the venue of the National Ship Design and Research Centre, set up in the 1990s to encourage innovative ship design and engineering. India also has the National Institute of Ocean Technology based in Chennai and the National Institute of Oceanography based in Goa, which provide a critical mass of advanced capabilities and trained personnel, necessary for the efficient management of India's maritime domain.