Lieut-Gen (retd) Baljit Singh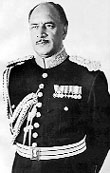 AS a military leader, Major-Gen KS Thimayya, DSO, had emerged shoulders above his contemporaries, post the 1947-48 Indo-Pak war in the J&K theatre. This measure of Timmy was further bolstered when the international community unequivocally applauded his deft handling of the acrimonious POW repatriation on the Korean peninsula. Prime Minister Nehru was so impressed by the calibre of the General that in personal interaction the PM addressed him as Timmy, always.
Gen KS Thimayya
So the day he was elevated to the post of Chief of the Army Staff, Mr Nehru broke with convention and unannounced walked into the COAS office to congratulate his friend. So taken aback was the Army Chief that he remained transfixed to his chair even as the Prime Minister walked right up to him. Without ado, Mr Nehru shook hands and taking the visitor's chair launched into a convivial conversation with the utterance "won't you offer me a cigarette, Timmy?"
We learnt of this episode some twenty years later at a mutual friend's home from Ammie, including a few indiscreet words uttered in innocent banter by Timmy. Now Ammie was the lively, petite and charming younger sister of the Chief. She had been married to a bureaucrat from the Indian Civil Service and was widowed during a cloudburst when holidaying with their two children, up in the Kullu valley in the 1950s. Mr Nehru was quick to redress the tragedy and asked Timmy whether Ammie would accept the role of a personal assistant in the PM's household. In the event, she was assigned responsibility of the PM's wardrobe, provided suitable quarters on the premises and would become a permanent fixture on the PM's staff during foreign visits, also. Ammie was in a sense "adopted" by the Nehru-Gandhis, ultimately becoming a mentor and companion of Priyanka and Rahul during their days of cloistered childhood. Mrs Indira Gandhi would often seek out Ammie for a relaxed drink in the evening and even decades later, a car would pick her on most Sundays to lunch with the children.