Political parties in Pakistan, however, protect their own turf
D. Suba Chandran
EVER since the current round of negotiations with the Taliban in Pakistan began, there have been numerous committees, limited military strikes and continuing violence by militants. A cursory look at the problematique reveals two major fault lines. The first is between the multiple actors who are directly and indirectly party to the negotiations and its outcome — political parties, the military, the Taliban and civil society. Second, there is also a fault line within each of the above actors on the endgame.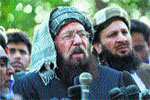 Maulana Sami-ul-Haq, a negotiator for the Tehreek-e-Taliban Pakistan (TTP), addresses the media after a meeting of the negotiation committee in Islamabad on March 22, 2014. AFP
There have been numerous "all-party conferences" and debates within and outside Parliament. Though there seems to be a consensus in negotiating with the Taliban in Pakistan, there are subtle differences within the political parties in terms of the endgame. The ruling PML-N and the Punjabi leadership seems to be primarily interested in ensuring that violence does not spread into Punjab. It appears they prefer to live with an element of Taliban presence and influence in the Federally Administered Tribal Areas (FATA) and Khyber Pakhtunkhwa (KP), provided they do not attempt to infiltrate into Islamabad and the rest of Punjab.
The regional political parties, especially in KP, including the Awami National Party and Imran Khan's PTI, also seem to be pursuing a same goal, but to a limited extent. It appears that the political parties in Khyber Pakhtunkhwa are also willing to live with a Taliban presence and influence in FATA, and selected settled regions in KP such as Swat, as long as the TTP and its ideology gets quarantined within these tribal belts.
The MQM and the PPP also seem to be more interested in protecting Sindh, especially the port city and economic capital of Pakistan, Karachi. Today, there are more Pashtuns living in Karachi than in Peshawar, Kabul and Kandhahar. The Taliban has an influence over the Pashtuns in Karachi, which undermines the MQM, the ANP and the PPP. Since the PML-N has a smaller political constituency in Sindh, the Punjabi leadership may not be averse to an element of Taliban presence in Karachi as long as it does not affect economic growth and the economic corridor to Lahore and Islamabad.
Given the nature and size, the Baloch parties have less or no say in what they want vis-à-vis the Taliban, though the latter's presence in Balochistan has increased sectarian violence and undermined Baloch nationalism. For the rest of Pakistan, perhaps the undermining of Baloch nationalism under the heat of a violent sectarian discourse suits their larger, but narrow interests.