April 3, 2014, marks the 100 birth anniversary of Field Marshal Sam Manekshaw. If greatness is judged by the silhouette a person has popularised, a sensibility he has nurtured, an aesthetics that is unmistakably his own, we can say he has added to the vocabulary of soldiering. This is true of Sam 
Lt Gen Depinder Singh (Retd)
TO Sam Manekshaw fame and power came naturally, the reward of a hugely successful career and the validation of great professional competence, impeccable personal character and indomitable courage. The admiration, affection and confidence he evoked were unparalleled in the history of our armed forces leadership. He was appointed Chief of Army Staff in May 1969 and his Special Order of the Day on assuming command was a model of brevity: "I have today taken over as Chief of the Army Staff. I expect everyone to do his duty."


Sam Manekshaw did not take kindly to 'passengers', saying, "Everyone is paid and everyone has to do his job 100 per cent."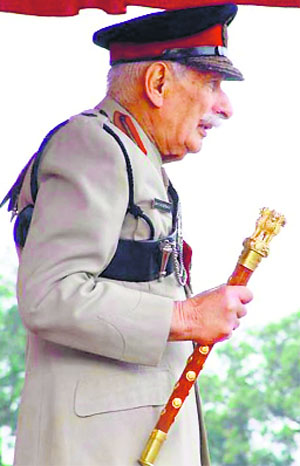 The period up to March 1971 saw a rapidly increasing tempo. Commands would be grilled over their daily situation reports which he saw first thing every morning, directors and principal staff officers at Army Headquarters got to see his phenomenal memory when he would quote assurances given and not yet fulfilled, if he did not understand some subject or was dissatisfied with a draft, he would pick up the file and march at this customary 140 paces to the minute to the officer concerned who would get a shock seeing the Chief entering his office and sitting down opposite him to question and advise. The bureaucracy was cautioned that a case under the Chief's signature would bear notings by the Defence Secretary only. Concurrently, re-organisation and re-equipment of the Army was taken up. A massive construction programme was launched to overcome the huge deficiencies of accommodation. Orders were issued that allotted funds must be expended in full and in time, cautioning that the time honoured practice of saving allotted funds and then expecting a pat on the back would, instead, get a rap on the knuckles. A widely welcome change in the retirement age of personnel was that it would be by age replacing the existing ad-hoc tenure system wherein no one knew when the retirement axe would fall.
Three incidents
Three incidents from this hectic period deserve mention. One, while returning from Palam one evening he noticed that the exterior upkeep of Sardar Patel Officers Quarters was shoddy. The next morning the Quarter Master General and the Engineer-in-Chief were directed to visit the site and report back within two hours with a corrective plan. Two, while inspecting new construction coming up in Jaipur, he expressed annoyance over the lack of attention to detail. The accompanying garrison engineer (a Major) bore the brunt of his criticism but retained his cool and pointed out that plans emanated from Delhi and he was not empowered to make any changes. Some months after this visit, promotion board proceedings were put up to the Chief for approval. When the proceedings came out there was a remark in red ink against the same Major who had not been cleared by the board. "Clear him. He had guts to stand up to me," Sam remarked. Three, visiting a battalion of the Garhwal Rifles he asked the Commanding Officer what action was taken against a soldier who contacted a venereal disease. "We get this head shaved off," said the officer, who did not know where to look when the Chief retorted, "But Sweetie, he did not do it with this head." Busy as he was with this hectic schedule, he still found time to notice that the civilian staff of his secretariat warmed their lunch boxes on the stove. They get a hot box.
Sam enjoyed excellent rapport with the then Prime Minister, Indira Gandhi. Following the Kamraj Plan re-shuffle, she was a bit apprehensive of some senior ministers ganging up against her. Her solution: Get the Army Chief to visit her office, have a one to one meeting after which he would leave with everyone trying to guess what the two had discussed. In one such meeting she remarked that there were reports that he was planning a coup. With a smile he said, "You do your job and let me do mine.' While on the subject, another incident comes to mind. In an interview, Abu Abraham, the famous cartoonist, asked, "Can the Army stage a coup?" The answer was, "The question is grammatically incorrect. Can implies capability and of course the Army can, but it never will." Despite the rapport with the PM, Sam was constantly emphasising the need for correctness while dealing with civilians. "We serve, but we are not sycophants." This was highlighted in a dramatic manner one day. The Defence Secretary was chairing a meeting in the Ministry's conference room. It was a warm day and as the Secretary entered, he shouted at an officer sitting next to a closed window, "You there, open that window." Before the officer could react came another command, "Please sit." This was from the chief who had entered through another door. He then turned to the Secretary and said, "You will never address an officer of mine as 'you there'. A very useful lesson was learnt by all that day.