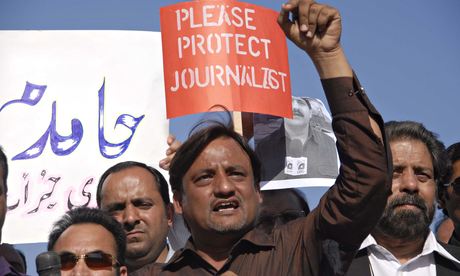 April 30, 2014
Jon Boone
The Guardian
,
April 29, 2014
Pakistani journalists protesting the recent attack on Geo television journalist Hamid Mir in Islamabad. Photograph: Anadolu Agency/Getty Images
Amnesty International says it has "credible concerns" that Pakistan's powerful military spy agency kidnaps, threatens and even kills journalists who cross it.
The allegations come amid an unprecedented public standoff between the Directorate of Inter-Services Intelligence (ISI) and the country's biggest media group over an attempt by unknown gunmen to kill Hamid Mir, a popular journalist on the Geo television network.
In a detailed report, the human rights group says journalists face extraordinary challenges in Pakistan, including deadly threats from banned militant groups and the armed wings of political parties. But Amnesty says it found that "no state actor is more feared by journalists than the ISI".
Dozens of journalists complained to the rights group of "harassment, intimidation or attacks" they claimed they had experienced at the hands of the spy agency.
Many gave information about harassment on the understanding it would be made public only if they were killed or kidnapped, such is the prevailing fear of reprisals from an agency believed to be among the most powerful organisations in the land.
Amnesty says journalists are particularly at risk when exposing security lapses by the military, or the army's alleged links to banned military groups such as theTaliban. Also highly sensitive are stories about abuses committed by security forces fighting separatist rebels in the province of Balochistan.