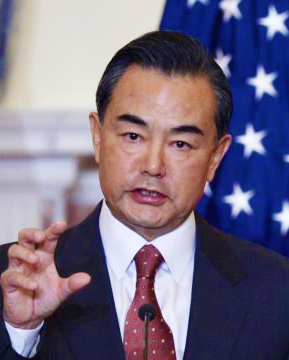 Image Credit: Wikimedia Commons
With Modi's election victory in India, China seems to be attempting a foreign policy "reset" with India.

June 11, 2014
Following the conclusion of Foreign Minister Wang Yi's trip to India on Tuesday, the Chinese foreign ministry stated that the visit was of "great significance." The foreign ministry emphasized the importance China's leaders place on their country's relationship with India. The visit was particularly notable for being the first official interaction between the governments of India and China since India elected a right-wing government led by the pro-business strongman Narendra Modi. Wang, who traveled to New Delhi as President Xi Jinping's "Special Envoy," called on Modi on Tuesday. Wang additionally spoke with a range of leaders in the newly elected government of India, including Indian External Affairs Minister Sushma Swaraj.
As I
wrote yesterday for
The Pulse
, Wang's trip was heavy on friendly rhetoric (as most Chinese diplomatic visits tend to be), but was also notable for his insistence specifically on how glad China was to have Modi leading India. Wang referred to Modi as an "old friend" of China's and said that his election injected "new vitality into an ancient civilization." Furthermore, he said that closer ties between India and China would "contribute to the national resurrection" of both countries.
On Tuesday, Chinese foreign ministry spokesperson Hua Chunying corroborated Wang's statements. "From this visit, we know that Sino-India relation is now in a new age of gearing up," she said. "I believe that Foreign Minister's visit sent the following messages, that is, Chinese leaders pay attention to growing relations with India, common interests between the two countries far outweigh disputes. … We are natural partners rather than rivals and the Chinese and Indian dream integrate with each other, so we should build closer development partnership with each other," she added.