Dinesh Kumar
http://www.tribuneindia.com/2014/20140704/edit.htm#6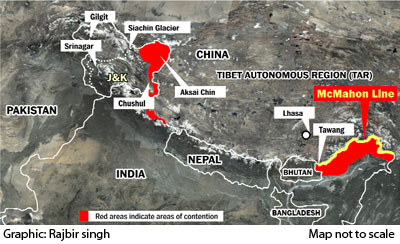 A century ago, on July 3, 1914, an accord was purportedly reached between China, Tibet and then British-ruled India, which continues to have a bearing on Sino-Indian relations to this day. The Simla Convention, which started on October 13, 1913, and concluded on July 3, 1914, was meant to define and demarcate the boundaries between India and Outer Tibet and between China and Inner Tibet. The British had then proposed the 'division' of Tibet into 'Inner' Tibet, which was to be under Chinese control, and 'Outer' Tibet, which was to have a sovereign like status. The accord, or agreement, as it is variously known, reached after tripartite talks between the three, led to the creation of what is popularly referred to as the McMahon Line in the north-east, which China has consistently rejected.
A series of political intrigues had both preceded and succeeded the holding of the tripartite talks, which is important to know in order to understand the context in which the convention was held. It goes back to the start of the 20th century when the 'Great Game' was at play. Colonial Britain, with its vast empire in the region, feared that Czarist Russia might be secretly planning to extend its influence over the strategically located Tibet. Whether or not Russia had any such plans in the region is a matter of much debate. But one of the factors that had reportedly sparked off London's suspicions was the Mongolian-Russian monk Aquang Dorji's (also referred to by the Russian name Dorzhiev) proximity to the 13th Dalai Lama. His political influence led to the signing of a treaty between Tibet and Mongolia in Ulan Bator (capital of Mongolia) in 1913, which incidentally he had signed on behalf of Tibet under the Tibetan name of Khen-chen Lobsang Ngawang.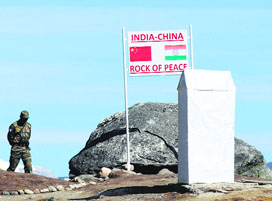 The move, 100 years ago, behind the Simla Convention of 1913-1914 that led to an agreement being signed on July 3, 1914, to determine the boundary between India and Tibet was initiated by the British colonial government. The agreement has been consistently rejected by the Chinese and a series of questionable actions post-Independence by New Delhi has not helped India's case.
China's gain

China initialled the agreement in April 1914 but walked away without signing the agreement at the tripartite summit between China, Tibet and British-ruled India, in Simla on July 3, 1914.