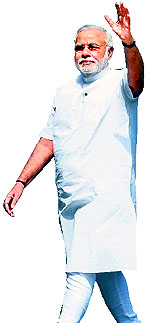 http://www.tribuneindia.com/2014/20140714/edit.htm
PM Narendra Modi will be in Brazil for the BRICS Summit, beginning on July 15. It can be an opportunity for India to leverage trade ties with the Latin American countries to its own advantage
Deepak Bhojwani
A proactive India can ensure that Latin American countries become its trade partners
AS the hype of the football World Cup subsides, the Brazilian coastal town of Fortaleza, renowned among other things for its gigantic sand dunes, will host the leaders of the most important emerging countries in the world on July 15.
Prime Minister Narendra Modi has already established a reputation for recalibrating the teeth-to-tail ratio in foreign policy. In what will be only his second foreign tour, he will meet with the Presidents of China, Russia and South Africa, in the company of Dilma Roussef, the President of Brazil, a vital strategic partner.
The Summit is expected to roll out important decisions, especially on the formation of the BRICS Bank, with a capital base of US $100 billion.
On the sidelines of the Summit, Modi is expected to have a meeting with those of the other 11 leaders of the Union of South American Nations — UNASUR — who accept Brazilian President Dilma Roussef's invitation, and will be in Brasilia on July 16.
A Brazilian initiative covering all the 12 nations of South America, UNASUR was formalised in Brasilia in 2008. It is still the most powerful political grouping in a región struggling to achieve a common identity since independence two centuries ago. The fact that most of these leaders will be in Brasilia is testimony to the role of Brazil, the only Portuguese-speaking country in a largely Spanish-speaking environment, in bringing Latin America to the world, and vice versa.
Few prime ministerial visits
While the BRICS agenda is a mountain being scaled by the sherpas and others, the meeting which PM Modi will have with the Latin American leaders, apart from his bilateral with President Roussef, holds tremendous significance. It is no secret that visits by an Indian Prime Minister to Latin America have been fewer than to any other region. After Indira Gandhi's odyssey in 1968 (she visited eight countries), prime ministerial visits, apart from Brazil, have been mainly for multilateral events — to Argentina, Mexico and Colombia.
Although there can understandably be no set agenda, the fact that such a meeting is taking place is important for India's outreach to that supposedly distant continent. Supposedly because other BRICS members, specially Russia and, more importantly, China, have been aggressively wooing that region. South America, with an area five times that of India, four times its GDP, and an average per capita income of over $11,000 per annum, has still to catch the fancy of our top leadership.