http://www.tribuneindia.com/2014/20140726/main7.htm
Azhar Qadri

Dras (Kargil), July 25
At the icy height of 10,760 ft, Dras welcomes its few visitors with a rusting, faded signboard: second coldest inhabited place in the world (temp: -60C on 09 Jan '95). It is a place caught in a time warp which is slowly getting introduced to modern civilisation. The freezing winter, with mercury nose-diving to minus 45 degrees Celsius this year, is not the only highlight of "The Gateway to Ladakh".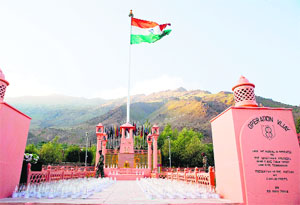 A soldier walks at a war memorial ahead of the Vijay Diwas celebrations in Dras, about 160 km east of Srinagar. Tribune Photo: Yawar Kabli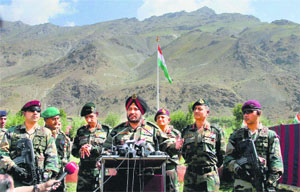 Army Chief General Bikram Singh addresses a gathering at the Kargil War Memorial in Dras on Friday. PTI

The Dras valley, which starts eastwards from the base of Zoji La and located 150 km from Srinagar city, was the epicentre of the 1999 Kargil war. Lost in the wilderness of its rugged surroundings , Dras is a tough place to live and a hard-to-imagine site of India's fourth war with Pakistan when a massive military mobilisation of infantry and artillery units snaked over an arduous mountainous track, crawling to an altitude of 11,649 feet to cross the Zoji La — a pass of blizzards.

The people here —believed to be of Central Asian ancestry who speak Balti and Dardi — live a simple life, which has remained unchanged with the changing times.

The fight is for survival, to live through a winter which cuts off this region from the entire world and restricts its residents to their thick-walled mud and stone houses.

The place is now witnessing the first glimpses of development. It has got macadam roads, a poor cellular network provided by only one service-provider and some slow speed Internet cafes frequented mostly by tourists.

Dras has become a transit point for bikers on way to Leh and its handful of motels and eateries serve visitors very basic cuisines.

There's a tourist reception centre with no one at the counter. The only noticeable feature in the town is a signpost which points towards Tiger Hill, the famed souvenir of Kargil war, and eight minarets of four mosques.

Nearly 12 km from Dras town is Mushkoh - a narrow valley of wild yellow flowers with a strong enchanting fragrance. Mushkoh valley, also a battle site during the 1999 war, is less than a km wide and nearly 20 km long before the road ends at a forward artillery camp and becomes a no-go zone for civilians.