http://www.tribuneindia.com/2014/20140908/edit.htm#6
S. D. Muni
In the first 100 days, the SAARC invitation and Prime Minister Narendra Modi's visits to neighbouring capitals have greatly improved the atmospherics of the bilateral discourse and created hope for greater regional cooperation and synergy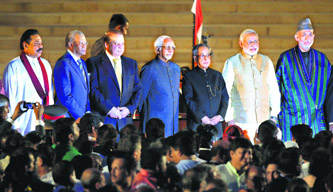 It is hoped that Prime Minister Modi's diplomatic efforts are streamlined to move with greater care in pushing forward the new approach of pro-active engagement with the neighbours. Photo: PTI
MODI government's neighbourhood initiative, which started even before the government was sworn-in, in the form of invitation to SAARC heads of Government and State, has widely been acclaimed. Prime Minister Narendra Modi established personal contacts with the SAARC leaders, including Pakistan Prime Minister Nawaz Sharif and paid two official visits to Bhutan and Nepal. Foreign Minister Sushma Swaraj reactivated India-Nepal Joint Commission meetings after 23 years by visiting Kathmandu and paid visits to Bangladesh and Myanmar. Foreign Secretary-level talks were scheduled between India and Pakistan despite violations of ceasefire on the Line of Control and international border, ignoring Modi's campaign position that while bombs and guns boom, we cannot talk meaningfully.
India, however, pulled back from these talks as a result of the PMO-led intervention, which insisted on Pakistan discontinuing its parleys with Kashmir's separatist Hurriyat Conference leaders on the eve of the talks.
The SAARC invitation and the visits to neighbouring capitals greatly improved the atmospherics of the bilateral discourse and created hope for greater regional cooperation and synergy. It gave Indian leaders the feel of political terrain as well as developmental expectations from India, in the neighbouring countries through personal contacts with the diversity of local leaders. In Bangladesh, Sushma Swaraj set at rest her hosts' anxieties on the BJP campaign rhetoric against illegal immigrants and promised that Land and Teesta Agreements would be expeditiously concluded. Modi's eloquent addresses in Bhutan's Parliament and Nepal's Constituent Assembly not only sought to bridge the trust deficit with India but gave assurances that India would stand by these countries in their respective searches for security, stability and development. His use of catchy phrases like B 4 B in Bhutan i.e. Bharat for Bhutan and Bhutan for Bharat, and in Nepal, Youdh se Bhuddha, (from war to peace) andShastra se Shastra (from arms to scriptures/Constitution) to hail Nepal's peace process of the Maoists joining the mainstream, promised a new Indian approach towards neighbours.
There were, however, no major breakthroughs in the neighbourhood initiative, and the withdrawal from talks with Pakistan was indeed amounted to be a breakdown. With settling of the euphoria of the visits, voices of sceptics and critics in the neighbouring countries as also within India, have started rising. The Modi government has come under strong criticism on the cancellation of talks with Pakistan. The Kashmir Assembly has even passed a resolution urging for restarting the talks and engaging Pakistan to promote bilateral ties. In Bangladesh, anxiety continues to centre on the critical pending agreements on Teesta water sharing and the Land Border. In Nepal, much-hyped Power Trade Agreement (PTA) and the Project Development Agreement (PDA) could not be signed. Modi has promised to renegotiate with Nepal, the Treaty of 1950, but there is no meaningful response from Nepal yet as to what it really wants in the revised treaty. There is no progress on a host of other issues, too, related to trade and transit, pending border demarcation and border management and rail and road link projects.