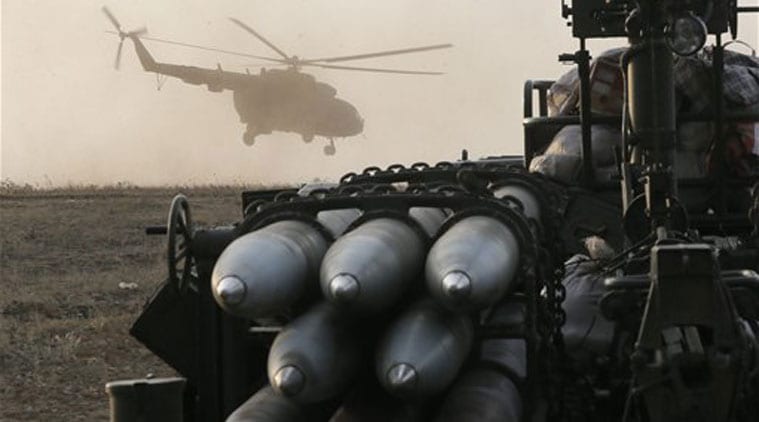 A Ukrainian army helicopter flies over their positions in Debaltsevo, Donetsk region, Ukraine, Friday, Sept. 12, 2014. The cease-fire between the separatists and the Ukrainian military in eastern Ukraine has largely held. 
Despite the cease-fire agreement, renewed fighting flared up Saturday in eastern Ukraine between pro-Russian rebels and government forces, while Moscow sent a second convoy of trucks into Ukraine without Kiev's consent.
Ukraine's military operation said in a statement that it had successfully repelled a rebel attack on the government-held Donetsk airport, which came under artillery fire from rebel positions late on Friday.
Despite the truce imposed last week, continuous rocket fire could be heard overnight in Donetsk. A statement posted on the city council website said that shells had hit residential buildings near the airport, although no casualties were reported. A column of three GRAD rocket launchers, all its rockets still in place, was seen moving freely through the rebel-held city on Saturday morning.
Ukrainian authorities also admitted for the first time that they have inflicted casualties on the rebel side since the start of the ceasefire.
Col. Andriy Lysenko, a spokesman for the Ukrainian National Security and Defense Council, said that 12 rebel fighters had been killed by Ukrainian forces near Sea of Azov city of Mariupol, where he said they were doing reconnaissance work. Lysenko also said that six Ukrainian servicemen had died since the start of the truce.