http://indianexpress.com/article/opinion/columns/just-add-to-cart/99/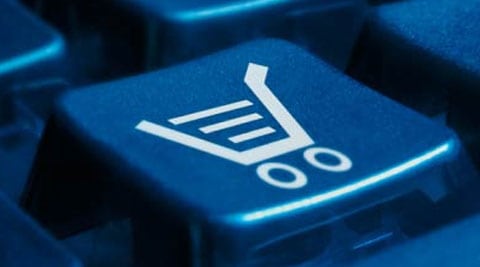 In spite of the delirium visited upon the country this Diwali, e-commerce will be no more than 3-10 per cent of Indian retail over the coming decade.
While the Diwali fireworks have died down, it is becoming clear that as far as the annual shopping season goes, 2014 has brought some explosive changes. The business of Diwali may never be quite the same after this year. According to some retailers, not enough shoppers were lining up at the shops, upending a time-honoured tradition. The Future Group's chief, Kishore Biyani, pretty much summed it up in a quote in The Wall Street Journal: "The market has been bad". On the flip side, according to almighty Google, "The internet is increasingly becoming the preferred source of research (and even purchase) for Indians, and searches on Google clearly show the rush of searches around Diwali." More and more Indian shoppers are turning to their phones and computers instead of braving the traffic to make their purchases for the festival season; it seems the trend accelerated this year. Of course, 2014 was also the year when records were broken in Indian e-commerce; in excess of $3 billion poured into the nascent Indian e-commerce market over the summer. ASSOCHAM expects online sales to hit the Rs 10,000 crore milestone this year. With the tech research firm, Gartner, predicting 70 per cent growth in the Indian e-commerce market by next year and The Fletcher School-MasterCard Digital Evolution Index placing India as a "break out" country in terms of digital evolution, we may be looking at a future filled with digital Diwalis.
This is a transition that is remarkable for the simple reason that despite the liberalisation of the Indian economy and the growing interest of international players in getting a toehold in one of the world's highest potential consumer markets, Indian retail has stubbornly resisted change. It had remained fragmented, chaotic and inefficient, a postcard from the "old" India. The political and regulatory establishment could never quite make up its mind about whether to enact the bold laws to truly nudge it towards modernity. With the rise of digital players, Indian retail may be sidestepping decades of dithering. Digital retail is forcing a competitively feisty space, with innovation in branding, business models and funding that retail has never witnessed before.