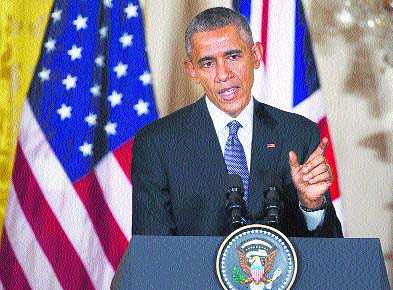 President Barack Obama's forthcoming visit as the chief guest on Republic Day is likely to give a fresh impetus to the Indo-US strategic partnership. While the relationship is substantive and broad based, the impressive achievements of the strategic partnership are to a large extent attributable to the successful implementation of the 10-year Defence Framework Agreement signed in June 2005. The renewal of this agreement will be a major item on the bilateral agenda during the summit meeting.
During the Obama-Narendra Modi meeting in September 2014, the two leaders had stated their intention to expand defence cooperation to bolster national, regional, and global security. It was agreed that the two countries would build an enduring partnership in which both sides treat each other at the same level as their closest partners, including defence technology transfers, trade, research, co-production, and co-development.
Prime Minister Modi and President Obama welcomed the first meeting under the framework of the Defence Trade and Technology Initiative in September 2014 and endorsed the decision to establish a task force to expeditiously evaluate and decide on unique projects and technologies which would have a transformative impact on bilateral defence relations and enhance India's defence industry and military capabilities.
For several decades, India's procurement of weapons platforms and other defence equipment had remained mired in disadvantageous buyer-seller, patron-client relationships like that with the erstwhile Soviet Union and Russia. While India has been manufacturing Russian fighter aircraft and tanks under licence, the Russians never actually transferred weapons technology to India.
The country has now diversified its acquisition sources beyond Russia to Western countries and Israel. From the US, India has purchased weapons platforms and other items of defence equipment worth around US $10 billion over the last five years. However, none of the recent deals with the US have included the transfer of technology clauses. There is now a growing realisation in India that future defence acquisitions must simultaneously lead to a transformative change in the country's defence technology base and manufacturing prowess. Hence, it is imperative that whatever India procures now must be procured with a transfer of technology clause being built into the contract even though it means having to pay a higher price. The aim should be to make India a design, development, manufacturing and export hub for defence equipment in two to three decades.
In September 2013, Deputy Secretary of Defence Ashton Carter, now the US Defence Secretary designate, had offered India a "Defence Trade and Technology Initiative" under which the US will share sensitive cutting-edge defence technology and permit US companies to enter into joint production and co-development ventures in India. Carter had then said, "We changed our mindset around technology transfer to India in the Department of Defence from a culture of presumptive no to one of presumptive yes."
The Javelin anti-tank guided missile is another key candidate for joint production, though so far the US has been hesitant to offer its seeker and warhead technology. India is also looking for high-end counter-IED technologies. In future, the two countries will conduct joint research and development for new weapons systems and the US may offer even nuclear power packs for submarines and aircraft carriers and fighter aircraft engines. Cooperation of such a high order will raise India's technology base by an order of magnitude and help the country move several notches higher in its quest for self-reliance in defence production.
Before stepping down as Secretary of Defence, Chuck Hagel had nominated Frank Kendall, the Department's Undersecretary for Acquisition, Technology and Logistics, as the defence initiative's American lead. With Ashton Carter soon to become Secretary of Defence, the initiative will get a fresh boost. The biggest boost will come from a show-piece joint development project like the BrahMos supersonic cruise missile jointly developed with Russia.
The extended Defence Framework Agreement should take stock of the goals of the 2005 agreement that have not been fully achieved. For example, there has been no progress in cooperation on BMD technology. This needs to be rectified. Intelligence sharing is limited to ongoing counter-terrorism operations at present. It should be extended to the sharing of data bases as well, particularly the terrorism data base maintained by the US NCTC and India's NATGRID.
Prime Minister Modi's government has raised the FDI limit for defence joint ventures to 49 per cent equity participation. It is likely to be open to modifying the offsets policy and amending export laws, which are considered a stumbling block. The agreement should take into account the Indian PM's exhortation to industry to "Make in India". The two governments should act as facilitators for their public and private sector companies to form joint ventures for the design and development, co-production and export of future weapons platforms.
There is a mutual recognition of the adverse implications of China's increasing assertiveness in the South China Sea and in dealing with the dispute over the Senkaku (Diaoyu) islands with Japan. This has undermined international and regional confidence in China's desire to resolve disputes peacefully. There is need to work in unison with the international community to uphold the unfettered use of the global commons. India is building robust military intervention capabilities and the armed forces are engaged in the process of formulating a doctrine to give effect to these capabilities.
Though India values its strategic autonomy and recognises that each bilateral relationship is important in its own way, the policymakers realise that the geo-political contours of the 21st century and peace and stability, particularly in the India-Pacific region, will be shaped through cooperative security. In future, India may be willing to conduct joint military operations with the US in its area of strategic interest in a contingency in which India's vital national interests are threatened, preferably as a Chapter 7 intervention under the UN flag and failing that, as part of a "coalition of the willing".
The writer is a former Director, Centre for Land Warfare Studies, New Delhi