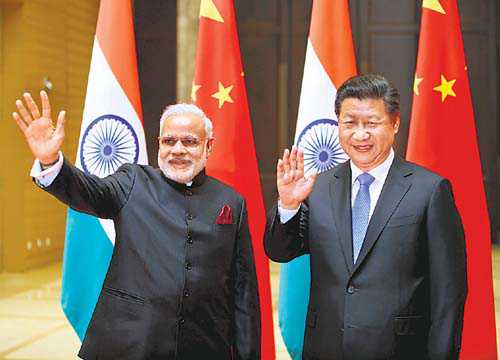 At mid-day on May 15, soon after the Indian and Chinese Prime Ministers had addressed the media together and the formal part of Prime Minister Narendra Modi's visit was over, it was best described as high on optics, low on substance. Though the joint statement issued later in the day contained some important formulations that were a departure from the past, it was the PM's speech at Tsinghua University that afternoon that made the visit historic.
The nation had been used to Indian Prime Ministers visiting Beijing and restricting themselves to mouthing diplomatic niceties. Several of them repeated the Tibet-is-part-of-China mantra without Chinese reciprocity. For the first time an Indian PM stood on Chinese soil and boldly and clearly articulated India's core concerns and misgivings. He deserves to be lauded for his courage. It would be fair to presume that the PM would also have flagged these concerns during his one-on-one meeting with President Xi Jinping at Xian on the first day of his visit.
During his address to students at the university, Prime Minister Modi said, "We must try to settle the boundary question quickly… a shadow of uncertainty always hangs over the sensitive areas of the border region… because neither side knows where the Line of Actual Control is… That is why I have proposed resuming the process of clarifying it… We should think of creative solutions to issues that have become irritants — from visa policies to trans-border rivers… We must ensure that our relationships with other countries do not become a source of concern for each other…" This was a reminder to the Chinese leadership to not go too far with its collusion with Pakistan to checkmate India. He added for good measure that "neither of us can be contained".
The joint statement also contained some strong formulations for the first time. While it mentioned the "simultaneous re-emergence of India and China as two major powers in the region and the world", it also called upon both sides to "show mutual respect and sensitivity to each other's concerns, interests and aspirations". It has always been felt that the Chinese are oblivious to Indian concerns and it must have taken some deft diplomacy to put the reference to concerns in the joint statement in such an upfront manner.
Another surprise inclusion is the rare reference to finding a solution to the long-standing territorial and boundary dispute between the two countries. The two sides agreed that the "early settlement of the boundary question serves the basic interests of the two countries and should be pursued as a strategic objective by the two governments." They sought to "continuously push forward negotiation on the framework for a boundary settlement based on the outcomes and common understanding achieved so far, in an effort to seek a fair, reasonable and mutually acceptable solution as early as possible." It is to be hoped that after this the Chinese will not go back on the 2005 "Agreement on Political Parameters and Guiding Principles for Settlement of the Boundary Question". The highlights of this agreement were that the boundary "should be along well-defined and easily identifiable natural geographical features" and that both countries would "safeguard due interests of their settled populations in the border areas" while reaching a "boundary settlement". By subsequently claiming Tawang, the Chinese had gone back on the 2005 agreement.
The rest of the joint statement is devoted to maintaining peace on the border, military-to-military confidence-building measures, border meetings and exchanges, border trade, removing impediments to bilateral trade, cooperation in the railways, enhancing people-to-people contacts and cultural exchanges, exploring new avenues of cooperation such as peaceful uses of outer space and nuclear energy, public health, medical education and traditional medicine. For the record, the two sides signed deals worth US$ 10 billion by way of Chinese investment in Indian infrastructure. The PM's 'Make-in-India' hard-sell resulted in the signing of business-to-business MoUs worth US$22 billion at Shanghai.
However, despite all the bonhomie, the red carpet and colourful tapestries, yoga and Tai-chi, India's relationship with China remains complex. China's India narrative has civilizational moorings and its thinking is driven by the Middle Kingdom syndrome. Its competition with India at the strategic level goes well beyond the territorial dispute, which is merely a symptom and not the cause.
There is a Chinese saying that one mountain cannot accommodate two tigers. China finds it difficult to accept India as an equal power in Asia and is working assiduously to confine India to the backwaters of the Indian Ocean as a subaltern state. As part of its grand strategy, China is engaged in a carefully orchestrated plan aimed at the strategic encirclement of India.
The nuclear warheads-ballistic missiles-military hardware technology transfer nexus between China and Pakistan is a major cause for instability in Southern Asia. Without massive Chinese support Pakistan would be in no position to wage a proxy war against India. In as much as that, it is China's proxy war as well. China has "guaranteed Pakistan's territorial integrity". In the words of the leaders of China and Pakistan, their friendship is "strategic" and "higher than the mountains, deeper than the oceans and sweeter than honey."
President Xi Jinping announced an investment of US$46 billion in the development of infrastructure for the China-Pakistan Economic Corridor linking Xinjiang with Gwadar port during his visit to Islamabad on April 20-21, 2015. Chinese engineers and PLA personnel have been present in large numbers in Gilgit-Baltistan for over a decade despite the fact that it is recognised as a disputed area that is part of PoK.
During his visit to China, Modi has done well to highlight India's core concerns, particularly those pertaining to territorial sovereignty and the fragile security environment. It is up to Xi Jinping to take note and carry out a course correction.
The writer is former Director, Centre for Land Warfare Studies (CLAWS), New Delhi