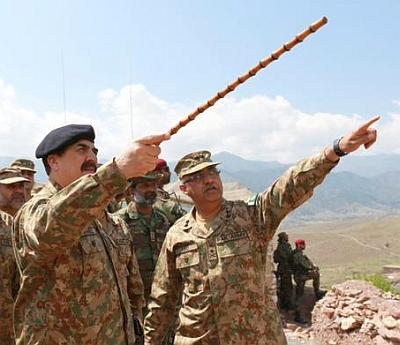 http://www.rediff.com/news/interview/pakistan-will-continue-to-support-terrorists/20160102.htm
January 02, 2016
'The problem with India and Pakistan can be solved by Pakistan by ceasing its support for Islamist terrorists operating in India, letting go of its baseless demands upon Kashmir, ceasing its support for terrorists attacking India assets in Afghanistan.'
C Christine Fair is the author of Fighting to the End: The Pakistan Army's Way of War. An associate professor at the Centre for Peace and Security Studies, Georgetown University, Washington, DC, she is considered an authority on Pakistan and the Islamists within.
Professor Fair responded to Nikhil Lakshman/Rediff.com's inquiries on the Pakistan army and the current India-Pakistan rapprochement.
Do you believe the Pakistan army is on board with Prime Minister Nawaz Sharif's current rapprochement with India? Will the Pakistan military and the ISI behave or will it continue to needle India with its non-State actors?
Of course not, because there is no genuine rapprochement for several reasons.
The problem with India and Pakistan can be solved by Pakistan by ceasing its support for Islamist terrorists operating in India, letting go of its baseless demands upon Kashmir, ceasing its support for terrorists attacking India assets in Afghanistan.
There is only evidence for Pakistan's continued commitment to these goals.
What do you think Washington told General Raheel Sharif, left, when he came a-visiting a few weeks ago? And what would they have needed to impress on him to get him to play ball?
Are lots of American goodies coming GHQ Rawalpindi's way?
The usual: Stop supporting the Haqqanis and take steps to eliminate them, stop supporting groups like LeT/JuD and take steps to eliminate them, stop engaging irresponsibly with respect to your nuclear programme, help bring the Taliban to the negotiating table.
As with previous similar 'lectures,' this army chief -- like all before him -- will ignore these messages and continuing doing what it does while continuing to get money from the United States because the United States is too afraid that Pakistan will fail etc.
We've seen this movie before. We know how it ends.
What would be the five things you would expect from Pakistan in 2016?
1. More support for groups like JUD/LeT.
2. More support for the Haqqani network.
3. Inability and unwillingness to be constructive in Afghanistan.
4. More nuclear proliferation with respect to fissile material production and 'tactical nuclear weapons.'
5. More army dominance over the eviscerated democratic instittuions while engendering public support for the same.