Jan 15 2016, Dinesh Kumar
http://www.tribuneindia.com/news/comment/the-army-s-changing-face-and-role/183538.html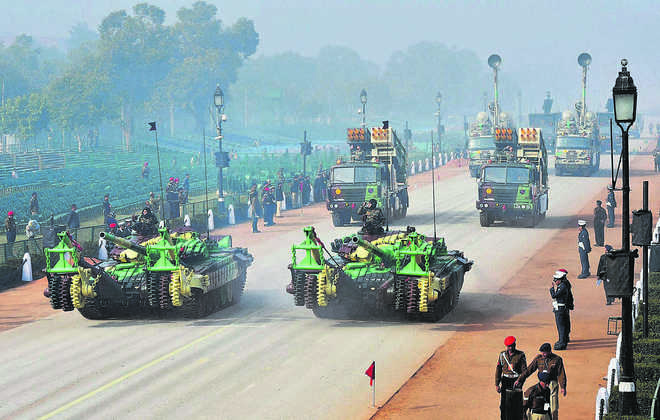 Army Day, today, calls for stocktaking — especially of the internal health of the Indian Army. Even in the 21st century, basics such as bullet-proof vests, night-vision devices and thermal imagers are in short supply.
On January 15, 1949, barely a fortnight after the Indian Army had finished battling a newly created Pakistan for a year and two months over Jammu and Kashmir under the command of a British general, the Indian Army got its first Indian citizen as its Commander-in-Chief (redesignated Chief of Army Staff in 1955) in Field Marshal (then Lieutenant-General) Kodandera Madappa Cariappa. Since then, January 15 is observed as Army Day in post-Independence India.
After a fiery start immediately after Partition, the 1950s turned out to be a relatively quiet decade for the Army although there was otherwise considerable disquiet on the geopolitical front. China's occupation of Tibet, followed by its aggressive posturing and cartographic aggression of questionably defined Sino-Indian land boundaries, Pakistan's brazen tilt towards the United States and forging of military alliances with that country along with its quiet befriending of China, and, within India, the secessionist movement in Nagaland were some of the causes for serious concern. The fallout from these developments defined the 1960s and the Army's role. During that decade, the Army got heavily engaged in a series of military operations that included fighting three intensive wars within a span of just nine years. It started with liberating Goa from Portuguese rule in 1961, followed a year later by the Sino-Indian war in 1962 during which India lost territory in Ladakh. Less than three years later, in 1965, the Army was again fighting a war, this time with Pakistan, which first began with a smaller scale skirmish in Gujarat's Rann area and then a full-fledged war along the entire land frontier starting from Jammu and Kashmir. Six years later, in 1971, the Indian and Pakistani armed forces were locked in a fierce war which witnessed the dismemberment of East Pakistan from West Pakistan.
But since the 1971 war, warfare in the subcontinent has undergone a paradigm shift. Other than the 1999 limited mountain war in the freezing heights of Ladakh's Kargil region, the Indian Army has not fought a conventional war. Neither is a conventional war likely in at least the near future. Indeed, from conventional wars, warfare has moved to various irregular forms such as proxy war, guerrilla warfare and other such forms of low-intensity conflict, and terror attacks. This has required the Army to considerably reorient itself and train differently which has come at a considerable price.
And yet, the Army, the world's fourth largest, cannot be unmindful of the country's long stretches of land borders, considerable portions of which are undefined. These need continuous safeguarding and preparation for a conventional war. Neither can it stay oblivious to the scale of military modernisation being effected in the neighbourhood, especially by China which is a de facto superpower and considered a competitor and long-term adversary. Wide gaps and deficiencies in the Army's ability to successfully fight a conventional war are well known and widely documented by, for example, successive reports prepared by the Parliamentary Standing Committee on defence.
These deficiencies have arisen over time, reflecting adversely on the functioning of the Government — irrespective of the political dispensation in power. The deficiencies are across all spectrum of equipment — from rifles and ammunition to big-ticket items such as artillery and air-defence guns to name a few. Considering that low-intensity conflict is what the Army is most preoccupied with, the Army of the world's sixth nuclear weapon state continues to suffer shortfall of some basic equipment, starting with bullet-proof vests, night-vision devices, thermal imagers and direction-finding equipment in the 21st century.
The Army's involvement in combating low-intensity conflict dates back to the late-1950s, when it was first inducted in such operations to fight Naga rebels in Nagaland. Since then, the Army has seen similar operations in Mizoram, Manipur and Assam. While the Army's engagement in Punjab was only for a limited period, it is in the state of Jammu and Kashmir, beginning from 1989, that the Army continues to be engaged in its longest and most intensive spell of low-intensity conflict operations. These operations have resulted in a considerable number of casualties of officers and soldiers in the last two-and-a-half decades. The Army has had to change its orientation — fighting terrorists and insurgents often indistinguishable from civilians rather than a visible and clearly defined enemy in uniform. This has led to other problems. In their anxiety to get noticed, "careerist officers" have sometimes engaged in professionally unethical actions. Similarly, some over-enthusiastic officers have killed innocents on a few occasions. Others have taken advantage of the situation and engaged in corruption. These actions have, on occasions, combined to give a well-established apolitical institution a bad name in a state where the stakes are high. Any adverse incident gets magnified by the Pakistani establishment, terrorist groups, the international community and the civilian population.
All this and more has taken a toll on the internal health of the Army. Shortfalls in the officer cadre, which average about 10,000 less than the authorised sanctioned strength of 49,737, has meant that many combat units are functioning at about 50 per cent of their sanctioned strength.
As a result, officers with little experience are being tasked to command companies (about 125 soldiers), are multi-tasking by being burdened with more responsibilities and are unable to spend much time with the soldiers they command and foster a bond with them. Rather, there have been several incidents of violence between officers and soldiers in the past few years.
It does not end here. The background of the soldier is no longer that of an illiterate peasant from the village. Some are better educated and almost everyone is far more aware due to the ongoing revolution in information and communication technologies (ICTs). But ICTs have also created a new set of problems. Instant messaging also means soldiers are in regular touch with their families. It is fine so long as the messages are positive in nature. But when problems get communicated, these impact a soldier's mind, especially in a low-intensity conflict environment. Problems could be manifold but land disputes and marital issues are the commonest. Tensions and disconnect between officers and soldiers in battalions has only worsened matters.
The impact was most evident between 2001 and 2011, during which as many as 1,056 soldiers committed suicide. This trend has declined in recent years, following a series of steps taken as a result of a study conducted by the Defence Institute of Psychological Research.
The impact of social media and instant messaging is not confined to the soldiers alone. Increasingly, officers are using this medium to voice and communicate their discontent with the system. Whether it is their reservations about the One Rank One Pension announced by the Government, recommendations of the Seventh Pay Commission or criticism at the handling of the terror attack on the IAF base in Pathankot, the officer cadre is ever more vocal than before.
As is the case in most organisations, the problem begins from the top. Recent years have witnessed much infighting, expression of resentment and politicking among the top brass, including at the level of the Chief. Clearly, the Army needs to introspect and address issues concerning its internal health, including the quality of its leadership.
dkumar@tribunemail.com