http://www.tribuneindia.com/news/comment/china-pak-economic-corridor/208364.html
Gen VP Malik (retd), Posted at: Mar 14, 2016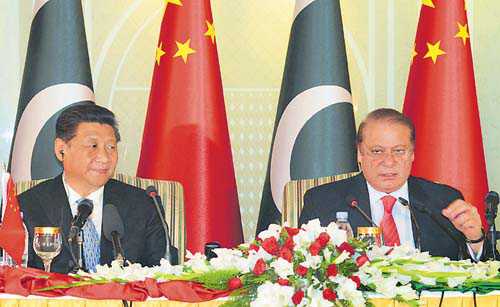 A game changer, it will impact the global discourse over J&K
IN the 1950s, China constructed a strategic road connecting Tibet to its Xinjiang province through Aksai Chin area of J&K. The intrusion became one of the triggers for the 1962 India-China war.
In 1963, China signed a border agreement with Pakistan in which Pakistan unilaterally ceded Shaqsgam valley, another part of J&K (called Gilgit-Baltistan now) to it. Both nations then built the Karakoram highway linking Kashgar in Xinjiang to Abbottabad of Pakistan.
In April 2015, China and Pakistan signed accords worth $46 billion to build the China-Pakistan Economic Corridor (CPEC) through Gilgit-Baltistan. This will extend to Gwadar Port in Pakistan and give China access to the Indian Ocean and beyond.
When China signed the boundary agreement with Pakistan in 1963, the objective given in its Article 1 was to 'formally delimit and demarcate the boundary between China's Xinjiang and the contiguous areas, the defence of which is under the actual control of Pakistan'. Article 6 stated 'the two parties have agreed that after the settlement of the Kashmir dispute between Pakistan and India, the sovereign authority concerned will re-open negotiations with the Government of the People's Republic of China on the boundary so as to sign a formal boundary treaty to replace the present agreement. In the event of that sovereign authority being Pakistan, the provision of this agreement and the protocol shall be maintained in the formal treaty.' (Note the doubt over the status of J&K and China making sure of its national interest in future.)
India and China resumed boundary talks in the early 1990s. But China has refused to disclose its perception of the Line of Actual Control which could lead to a boundary settlement.
During the Kargil conflict, China preferred to go along with the overwhelming world opinion. It advised Pakistan to withdraw its forces and abide by the LoC. But nearly a decade later, when India refused to cede Tawang in the Special Representatives-level boundary dialogue, China made a perceptible pro-Pakistan shift in its stance on J&K. It started issuing 'stapled visas' to Indian citizens of J&K, and refused visa to the GOC-in-C, Northern Command, for military-level exchanges. Around the same time, China increased its civil and military presence in Gilgit-Baltistan, purportedly to improve the infrastructure in this area. Senge H Sering, a scholar from Gilgit-Baltistan, wrote: "China has a huge and long-term presence in Gilgit-Baltistan and is building extensive road, bridge and telecom networks to sustain it. The drivers compelling China to develop Karakoram Corridor are diverse and mainly pertain to its economic, strategic and political ambitions."
According to India's Ministry of Defence, the length of China-India boundary, measured from the extreme eastern side (India-China-Burma junction) to the extreme north-western end of POK is 4,056 km. This includes 2,175 km in the western sector, 556 km in the central sector, and 1,325 km in the eastern sector. But Chinese officials and the media started mentioning the length of the China-India boundary as nearly 2,000 km. This was first stated by China Daily in its report on the 13th round of boundary talks between China and India. In 2010, People's Daily wrote that China and India share a nearly 2,000-km border and disputed areas cover about 125,000 sqkm on both sides. After the 14th round of border talks held in Beijing on November 29-30, 2010, the party-controlled Global Times quoted former ambassador to India, Zhou Gang: "The Sino-Indian border stretches for about 2,000 km and the two countries have never officially mapped it out. For a long time, the two sides abided by a traditional customary line based on their respective administrative regions." Another former ambassador to India, Cheng Ruisheng, said in a TV interview: "China and India share roughly a 2,000 km border which has never been formally delineated." Chinese officials and media have not only persisted with China-India border being only 2,000 km, but also attempted to correct figures, whenever quoted by Indian officials.
It is apparent that China, which had never openly questioned the Indian estimate of the length of common border earlier is now unilaterally seeking to exclude the Chinese-occupied territory in the Ladakh sector of J&K. It is also questioning India's locus standi to discuss this part of the border due to Pakistan's claims to this area. This may be an indication that China does not recognise India's claims of sovereignty over J&K.
In the 2015 accord, China and Pakistan have agreed to work on 51 projects comprising network of roads, rails, pipelines and power plants, mostly in the area covered by the CPEC. The money will be lent by Chinese state and its banks to Chinese companies to carry out the work, thereby making it a commercial venture, with direct impact on China's slackening economy. China also obtained a commitment from Pakistan for the security of the project and the workforce involved. The Pakistan army has raised a special security division for this, with headquarters in Diamer district of Gilgit-Baltistan. To ensure security at the Arabian Sea end, China will sell eight submarines to Pakistan, which would double its fleet.
If and when CPEC is completed, it will be a political, economic and strategic game changer in the region. China's control of Shaqsgam and other valleys of Gilgit-Baltistan will enable this area to be linked with its military and industrial complexes of northwestern Tibet.
India claims that China is in occupation of nearly 38,000 sqkm of Indian territory in Ladakh region. Along with 5,500 sqkm of territory ceded by Pakistan, China occupies over 20,000 sqkm of Gilgit-Baltistan covering Shaqsgam, Raskam and Aghil valleys. The China-Pakistan collusion has enhanced strategic importance of Siachen sector whose northern part overlooks Shaqsgam valley.
Beijing's new position underlines its centrality in J&K. While our debate on Kashmir is focussed on Pakistan, China has emerged as a decisive new factor. Just as the Chinese decision to call Arunachal Pradesh 'South Tibet' has begun to gain international traction, repeated references to the length of China-India border as 2,000 km will impact the global discourse over J&K. India has to come to terms with the changing geo-politics in its north-western region where its two fronts with Pakistan and China come together.
Henry Kissinger in his book On China emphasises the difference between Chinese 'comprehensive approaches' to 'segmented policy making' by other nations. He states that the Chinese think in civilisational terms. They are willing to strategise in long cycles and create levers of power based on realpolitik rather than morality. The Chinese style of dealing with strategic decisions is "thorough analysis; careful preparation; attention to psychological and political factors; quest for surprise; and rapid conclusion".
It would be useful to know and learn from Chinese strategic thinking.
— The writer is a former Army Chief