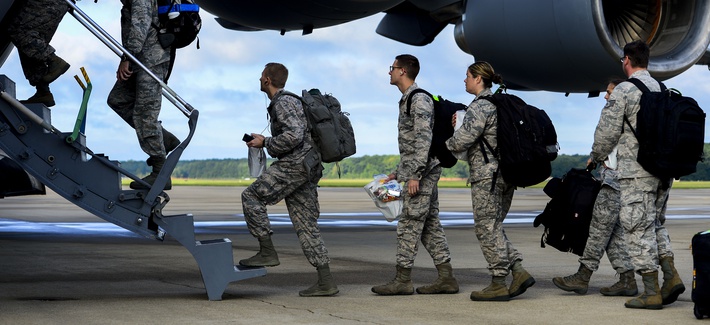 http://www.defenseone.com/ideas/2016/03/disaster-response-plans-shape/126352/?oref=d-river
It's time to digest the lessons of Haiti and Ebola and get ready for the mega disasters ahead.
When the 2010 earthquake in Haiti proved too much for the United Nations' humanitarian aid workers, the U.S. government took over, mounting a relief operation that was ultimately deemed fairly successful. But six years after that response, the federal government has yet to fully institutionalize the lessons it gleaned, or fund the capabilities that will allow it to handle the next mega disaster.
As the scale of the devastation in Haiti came to light, the U.S. augmented its civil relief agencies with military forces. That operation — and the ones that followed in Nepal, the Philippines, West Africa, and Japan — taught the civilians that American troops could be of enormous use in such work.
"There's been quite a change over the last decade with respect to accepting the military's role in responding to large-scale disasters," said Mark Bartolini, a former head of USAID's Office of Foreign Disaster Assistance, or OFDA.
The groups also recognized the need to develop better, formal ways of working together, and so formalized the civil-military relationship in a June 2015 policy update.
"We have further elaborated a system for that structural relationship between USAID and DOD as the lead agency for responding to international disasters," said Beth Cole, a former head of USAID's Office of Civil-Military Cooperation.
USAID officials are now tasked to different combatant commands, and can quickly respond in a crisis. Civilians and military officials also take part in more regular disaster-response training programs.
But as civilian agencies have leaned harder on the military, the Pentagon has found itself struggling to come up with the necessary funds.
"We don't have money set aside in the U.S. military to do [humanitarian assistance/disaster response]. It's money that we come up with and either take out of hide, or we get reimbursement from [the State Department] after the fact," said David Polatty, a professor at the Naval War College and an expert on humanitarian assistance and disaster response.
Military resources become dual-use in the event of a major disaster. For example, cargo jets traditionally tasked with transporting troops can be configured to bring water and food instead.
"Unfortunately, we function in a resource-constrained environment, so commanders have to balance constantly the need for high-end readiness across the spectrum of other missions they could be tasked to execute; one of which is [humanitarian assistance/disaster relief] response," said Col. Joseph Martin, head of the Center for Excellence in Disaster Management and Humanitarian Assistance, a sub-agency ofU.S. Pacific Command.
As well, the U.S. has fewer troops deployed overseas in recent years, meaning that disaster response "may not be as quick as you would have if you had forces forward deployed," said retired Lt. Gen. Ken Keen, the former deputy commander ofU.S. Southern Command and a point person during the Haiti response.
There is also the growing realization that the military is rarely the most efficient way to handle disasters.
"There's an understanding now that DOD assets are expensive and that everybody should strive to use other resources before they go to the DOD," Cole said.
Along with the traditional heavy footprint that the U.S. military often leaves, using local partners on the ground and civilian officials is both cheaper and more sustainable in the long term, she said.
But even these capabilities are facing severe strain. TheOFDA's 300-person staff is already stretched to the limit with operations all over the world, and a major disaster means that staff are quickly reassigned from one area to another. Bartolini says that the agency's $1 billion budget is insufficient for the tasks it'll likely face ahead, especially if Congress doesn't appropriate supplemental funding during the crisis.
"The Ebola crisis was a fantastic example — thankfully, they came through, but there was no guarantee they would have," he added.
Planning for the Next Haiti
It's becoming more a matter of when, not if, the United States will be called upon to lead a large-scale disaster response abroad.
"You're going to see climate change driving scrambles over resources, conflicts over resources, and that's going to put yet more pressure on the response infrastructure, not just in theU.S. government but globally," Bartolini said.
The response to Haiti was facilitated by its proximity to the U.S.homeland and a government friendly to Washington. But a fusion of natural and manmade disasters, especially in an unfriendly country, presents a unique challenge that the United States and the international community could have trouble responding to.
"Unfortunately, the world has handed us much more complex disasters," Cole said.
An example was the 2011-12 drought in Somalia, a disaster complicated by the presence of the al-Shabaab terrorist group. Sanctions limited the types of supplies that could be delivered to ameliorate the crisis. In the end, the U.S. shipped in emergency aid to try to stem the worst of the suffering.
The military is continuing to hone its disaster response plans in areas that see regular responses, such as the Pacific and Central America. But the future challenges will likely entail situations that are less like Haiti and more like Somalia, and which will demand a bolstered civilian corps.
"It's a matter of whether or not we want to invest in that for future disasters or not," Keen said.