http://www.martin-van-creveld.com/?p=621
Posted on April 28, 2016 by Martin van Creveld
At least since 9/11, and possibly since the First Gulf War back in 1991, it has been clear that the most immediate threat facing developed countries is not other developed countries. It is terrorism, guerrilla, insurgencies, asymmetric war, fourth generation war, war among the people, nontrinitarian war (my own favorite term), whatever. Follows a list-–a very partial one, to be sure—of expensive new American weapons and weapon systems, now in various stages of development, all of which have this in common that they are not relevant to the threat in question.

The USAF's new bomber. America's last bomber, the B-2, was an absolute disaster. Originally the program, which went back to the late 1980s, was supposed to result in a fleet of 132 aircraft. That figure was later reduced to just 20, plus one used for all kinds of experimental purposes. The machines cost $ 500,000,000 each, which is far more than almost any conceivable target. Some sources, taking development costs into consideration, provide a much higher figure still. Yet so vulnerable are the machines that, when they are not in the air, they need to stay in air-conditioned hangars. That in turn means that they can only be operated from the Continental US and take hours and hours to reach their targets. Nevertheless, fixated on bombers as the USAF has been for so many years, none of these problems have prevented it from going for an even more ambitious program. This is the so-called Next Generation Bomber of which 175 are planned. Suppose, which in view of past experience seems rather unlikely, that anything like this number is in fact produced at a cost of God knows how many dozens and dozens of billions. The contribution to effectively fighting the kind of organization that has mounted 9/11? Zero. Zip.
The USAF's new ICBM. America's last ICBM, known as the Peacemaker, was deployed from 1986 on (as so often, cost overruns reduced their number from the original 100 to just 50). In 2005 the last of them was decommissioned. Why? The answer is by no means clear. The START II Treaty, which prohibited putting multiple warheads on a single launcher, was already dead. Killed by President G. W. Bush's decision to go ahead with missile defense, another unbelievably expensive system which to-date has only yielded a handful of launchers totally unable to stop either a Russian or a Chinese attack. Or perhaps it died because running too different ICBM systems, one made up of Peacemakers and the other of the older Minutemans, was too expensive? In any case, the warheads were put on the old Minuteman missiles and the launching crews retrained for operating them; a rare case of fortunes being spent so the old can take the place of the new. And the contribution of all this to effectively fighting the kind of organization that has mounted 9/11? Zero. Zip.
The USAF's new F-35 fighter. Originally it was supposed to be a cheap alternative to the F-22, itself an expensive failure (which is why, out of 750 originally envisaged, only 187 were built). By now, however, each F-35 is expected to cost as much as an F-22. The program has been marked by numerous delays and developmental uncertainties. Only to result in an aircraft that can carry less ordnance than some older ones could. In terms of the critically important thrust to weight ratio it is actually inferior to no fewer than ten different American, Russian, and European fighters. One sometimes feels that the Air Force has forgotten all about the late John Boyd, his concept of energy maneuverability, and the F-16 whose mastermind he was. Instead it has returned to the days when Soviet-built Mig-17s, flown by North Vietnamese pilots, had little difficulty shooting heavier, less maneuverable, American F-105s out of the sky. And the contribution of all this to effectively fighting the kind of organization that has mounted 9/11? Zero. Zip.
Ford class carriers. Compared to its predecessors, the Nimitz class carriers, these huge warships (100,000 ton capacity when fully loaded) are said to have an improved nuclear power plant, electromagnetic catapults, and superior stealth characteristics. Originally they were also supposed to be able to generate a larger number of sorties per day, but there now seems to exist some doubt whether that objective will, in fact, be achieved. Early estimates put the cost of each carrier at $ 10.5 billion; now the estimate stands at $ 12.9 billion. And even this "outrageous" (John McCain) increase is most unlikely to be the last word. The carriers' contribution to effectively fighting the kind of organization that has mounted 9/11? Zero. Zip.

The army's new ground combat vehicle. Originally there was a call for a relatively light vehicle. One capable of being rapidly airlifted to wherever it may be needed so that any trouble might be dealt with before it could spread. What emerged, instead, was an 84-ton monster heavier and more unwieldy than any tank now in existence. One reminiscent of Germany's projected 100, 188, and 1,000 ton tanks during World War II (see image). Thank God this one was cancelled in mid stride—as, incidentally, Hitler's tanks also were. Or else the black hole that is the national debt would have been blessed with another white elephant.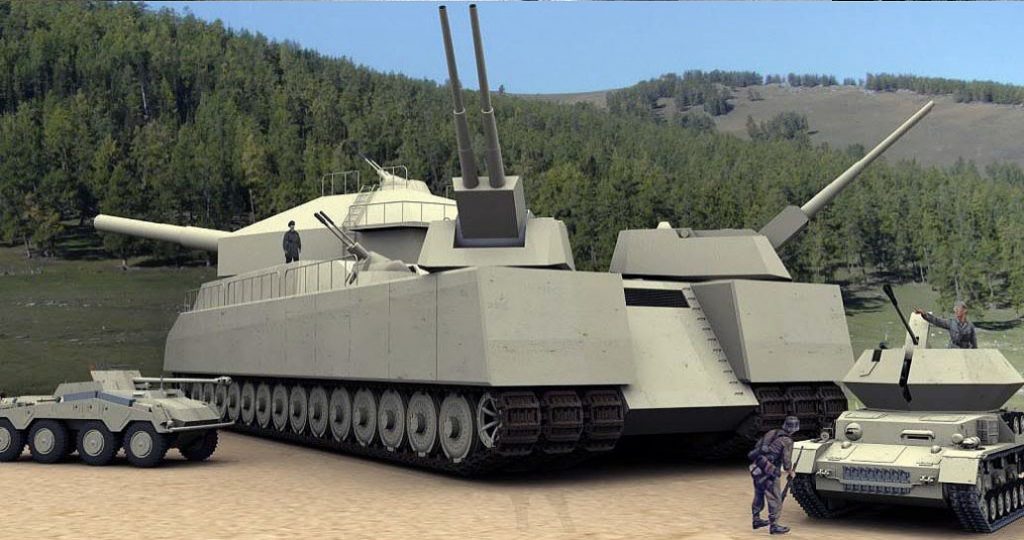 Will they ever learn?
*Thanks to my friend Bill Lind, whose work always inspires my own.