Image copyrightAFPImage captionThe lorry was finally brought to a stop opposite a luxury hotel: police had raked the windscreen with bullets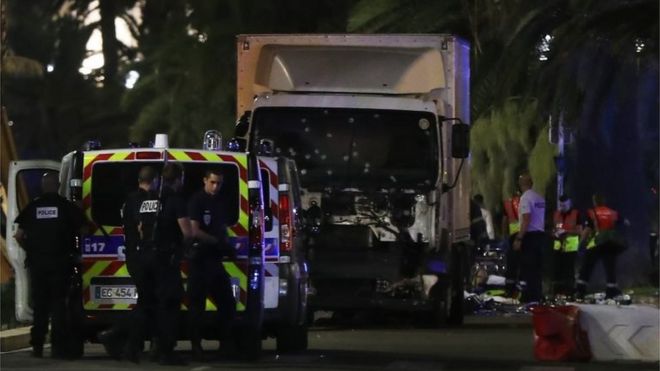 The killing of 84 people celebrating Bastille Day is the worst attack on France since the 13 November attacks last year.
France has been under a state of emergency ever since and security across the country was high, with intelligence services warning of the risk of further attacks.
The terror began a little after 22:30 (20:30 GMT) on Thursday, shortly after thousands of people had watched a firework display on the seafront in Nice, at the end of a day marking France's national holiday, Bastille Day.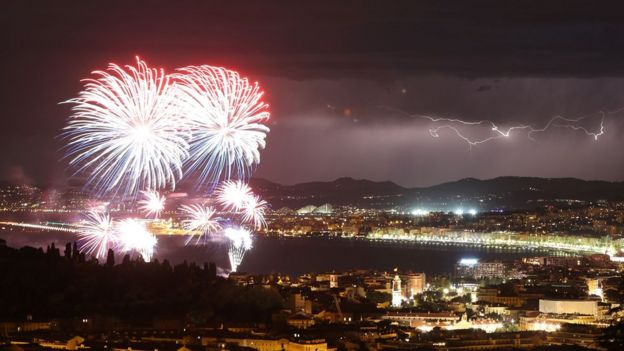 There had been a mood of celebration and the crowd had enjoyed an air force display during the evening.
As families strolled along the city's renowned Promenade des Anglais, a large white lorry careered at full speed towards them. The vehicle mounted the kerb then went back on the road, zigzagging for up to 2km (1.25 miles), as the driver intentionally drove into the crowd.
A local MP spoke of hundreds of people being run over.
Police finally managed to bring the lorry to a halt near the luxury Palais de la Mediterranee hotel.
"I was opposite the Palais de la Mediterranee when I saw a lorry at high speed running over people. I saw it with my own eyes, people tried to stop it," said one witness.
The driver opened fire on people in the crowd, according to local reports. Police fired back and the driver was eventually shot dead. Images from the scene showed the windscreen and front of the lorry raked with bullets. Interior ministry officials said the attacker had been "neutralised".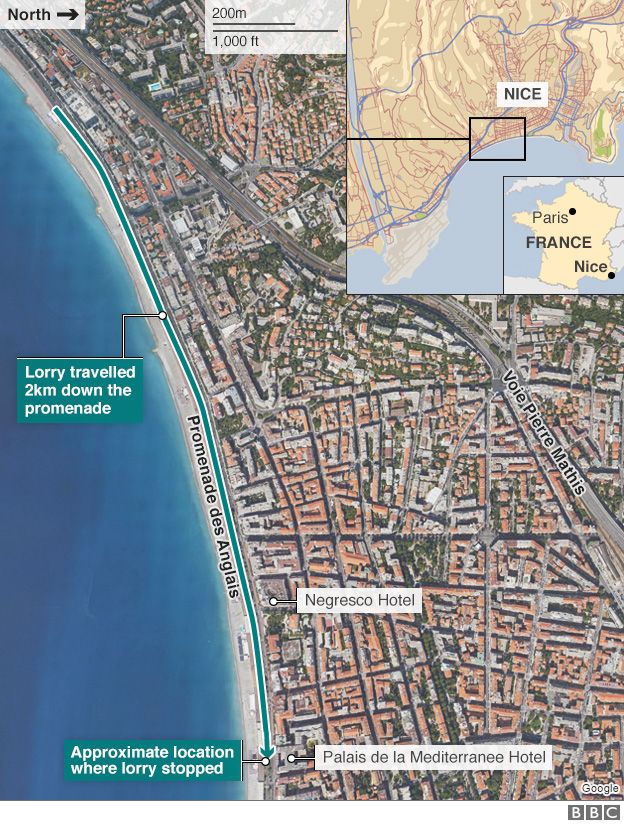 Who was driving the lorry?
The driver has been identified locally as a 31-year-old man of Franco-Tunisian origin from identity papers found inside the lorry.
He was named locally as Mohamed Lahouaiej Bouhlel. Police are yet to confirm the details, but were said to be searching his home in Nice.
The attacker was said to have hired the lorry from a rental in Saint-Laurent-du-Var, a town to the west of Nice two days earlier.
They also found guns and a grenade inside the lorry, but later said these were fake.
However, he was armed with a pistol, and had opened fire on police before being shot dead. It was not initially clear if he was acting alone.
There were rumours, which later proved to be false, that hostages had been taken in two nearby hotels.
Residents were told to stay indoors amid fears of more violence.
Nice residents and tourists alike were caught up in the attack.
It was clear that some of those who died were children, taken to the seafront by their parents to see the Bastille Day firework display.
Of the dozens of people wounded, as many as 54 were children who were being treated at Lenval hospital in Nice, reports said.
Among the 84 who died, according to reports, was the assistant head of the Nice border police, Jean-Marc Leclerc.
Image copyrightTWITTERImage captionLists of the missing were posted on social media: "Several children have died in the terrible #Nice06 attack. We're thinking of their families. There are no words"
In the hours after the attacks, lists were posted on social media of people missing since Thursday night.
Among the many names were Estelle, Morgane, Alphonse, Lea (aged seven) and Eva (aged nine).
How have the authorities reacted?
It soon became clear that many people had died, although the full scale of the disaster was unclear. The dead and injured were taken to the local Centre Hospitalier Universitaire de Nice.
The hospital launched its crisis mode for exceptional health situations and put out an emergency number for families: 00 33 (0)4 93 72 22 22.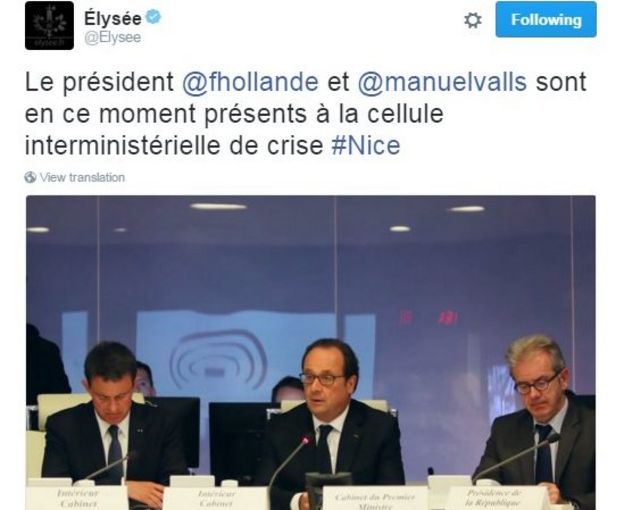 Image copyrightTWITTERImage captionThe presidency said during the night that the president and prime minister had convened an interministerial crisis meeting
In the area around Nice, the anti-terror alert has been raised to its highest level.
President Francois Hollande was flown back to Paris from a visit to Avignon, joining Prime Minister Manuel Valls in a crisis room. Mr Valls declared three days of mourning starting on Saturday.
Who was behind the attack?
It was not long before President Hollande said it was "an attack whose terrorist nature cannot be denied".
Anti-terrorist prosecutors in Paris have launched an inquiry for murder and attempted murder as part of an organised terrorist strike.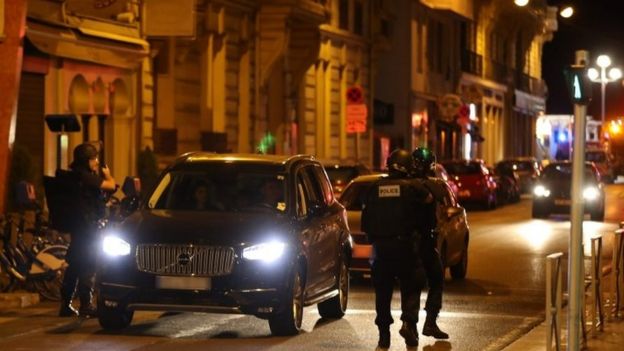 Image copyrightAFPImage captionNice was at its highest state of alert
Earlier this week, France's DGSI internal security organisation warned of the danger of further attacks from Islamist militants with "booby-trapped vehicles and bombs".
Although so-called Islamic State has not yet said it was behind the murders, it has targeted France on several occasions since January 2015.
Only hours before the Nice attack, President Hollande had announced that France's state of emergency would be removed later this month. He later announced it was being extended.
Are you in Nice? Did you see what took place on Promenade des Anglais? If it is safe to do so, please get in touch. Email haveyoursay@bbc.co.uk
Please include a contact number if you are willing to speak to a BBC journalist. You can also contact us in the following ways:
WhatsApp: +44 7525 900971
Send an SMS or MMS to 61124 or +44 7624 800 100