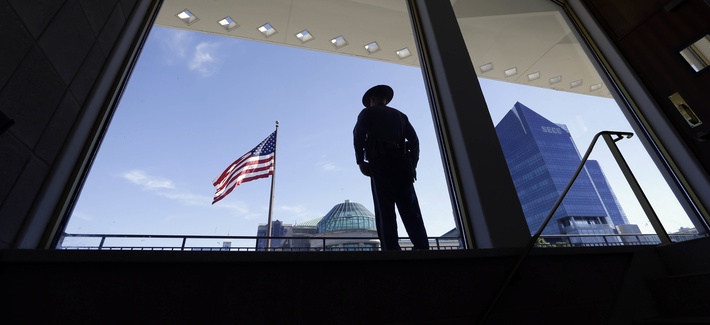 http://www.defenseone.com/ideas/2016/08/us-politicians-overcoming-fear-terrorism-easier-done-said/130749/?oref=d_brief_nl
AUGUST 15, 2016
We don't resign ourselves to car accidents, learning from what went wrong and funneling those insights back into prevention.
There's a reason many politicians don't say these things. Obama has been ridiculed by critics who claim he is dismissing people's legitimate fears, underestimating a grave danger, and effectively surrendering to terrorists.
"This was the professional consensus" by the end of Bush's presidency, "but it wasn't something widely shared because politicians didn't want to say this was too hard," Flynn told me. They didn't want to sound defeatist.
The problem, Flynn argued, is that politicians inflate expectations by acting as if vulnerability to terrorism can be whittled down to nothing. Then, when an attack inevitably happens, people become disillusioned with government and disempowered by fear. Demagogues exploit the situation, while the government tends to overreact by taking more drastic action to address the threat and making more promises it can't keep. Then there's another attack, and the cycle continues.
In reality, we do accept a greater-than-zero risk of death from terrorist attack. Otherwise, we'd never fly—or would strip everyone nude before boarding, do cavity searches, and carry no cargo. We accept the bargain for efficiency reasons (I'm not going to get to the airport six hours early to be searched). We accept it on "price of liberty" grounds (I'm not going to strip naked). But politicians can't come out and say that any risk is acceptable. Nor can they take the risk themselves of saying that security-theater rituals should be dropped, because of the risk of being blamed when the next attack occurs. Thus security-theater is a ratchet. You can add it, but you can't take it away.
"We can't eliminate all terrorists. But we can't eliminate disease. We can't stop hurricanes, we can't stop tornadoes," Flynn told me. "We've accepted in our lives a lot of risk: Car accidents and so forth. [Terrorism] is a manageable risk. It's a 21st-century reality—as it's been a reality in every other century—that we will have these [attacks] playing out with increasing frequency."
Investing in resilience might seem like an expression of defeat, but it could actually deter terrorists, according to Flynn. The classic definition of a threat, he noted, is that there is both intent and capability to cause harm. "The French have nuclear weapons, but they're not a threat [to America]. They have capability, but they don't have intent," he explained. "And we have people who wake up each morning wanting to usher in armageddon, but they can't get out of their bedrooms. They have intent, but no capability."
The rationale for using terror as a means of warfare is, "It's easy to do, and I get a big bang for my buck," he continued. If, in a more resilient society, terrorism "became less easy to do, then fewer people would be capable of doing it. And if they did it, it's a fizzle, not a bang," making the use of terrorism against that society less attractive. Intent and capability, and thus the threat as a whole, would be diminished. The goal of resilience is not just to design systems so they can withstand shocks, but also so they can "fail gracefully and recover nicely."
What resilience does not mean is neglecting efforts to prevent terrorism. We don't resign ourselves to car accidents: We enact laws against drunk driving and we install air bags. Instead, the goal is for societies to determine the lengths they are willing to go to try and stop terrorist attacks, and then to find ways to reconcile with the risk that remains by minimizing the costs of terrorism and, when attacks occur, learning from what went wrong and funneling those insights back into prevention.
In Israel, the investigation is "not the priority," Flynn explained. In the United States, by contrast, "the FBI swoops in, shuts down the entire [scene]. They've got to find every last hair and fingerprint. The Israeli perspective is: It's more important to deny the adversary the sense that they caused disruption and harm."