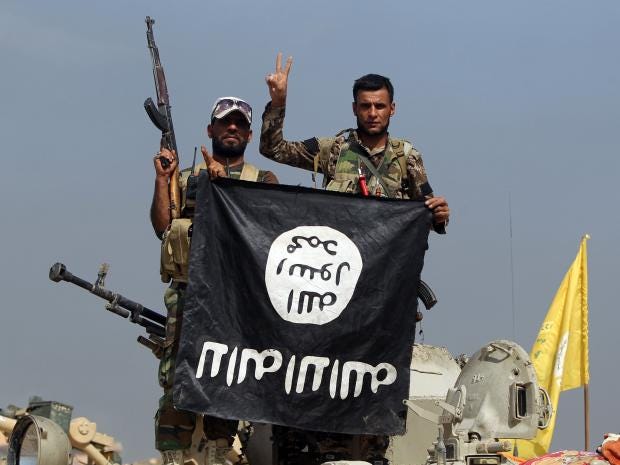 Flagship 'Redirect Method' targeted at potential jihadis brings up anti-propaganda adverts and videos which are disguised as pro-Isis
Undated screenshot from footage shared on a Telegram messaging account used by Isis AFP/Getty
A new programme from Google's tech wing is using the tech giant's most obvious strength to debunk Isis propaganda by serving aspiring fighters targeted ads and videos which undermine extremist ideology.
Jigsaw, which was known as Google Ideas up until earlier this year, created the programme dubbed the 'Redirect Method' in collaboration with London start-up Moonshot CVE and Beirut-based Quantum Communications.
It works by using Google's search algorithms - so if a would-be recruit typed in keywords people seeking Isis content usually look for, they will be served adverts and YouTube video playlists in Arabic and English which look pro-Isis on the surface, but are actually links subtly refuting the group's propaganda.
Some of the videos are surreptitiously filmed footage from inside the caliphate, for example, showing long lines outside food shops in Raqqa, Isis' defacto capital, or interviews with young people with their faces obscured about what it's like being forced to live under the militants' rule. Other videos feature interviews with defectors, or imams who point out Isis's teachings are not in line with Islam.
The eight-week pilot programme collected metadata from 320,000 individuals and tracked when they used 1,700 different keywords. Altogether, the targeted people watched more than 500,000 minutes of the anti-Isis videos.
Jigsaw's head of research and development, Yasmin Green, said that the click-through rate for the disguised anti-Isis ads was 70 per cent higher than other advertisements which appeared for the same keyword searches. Google's average click-through rate for ads is between 1.5 per cent and three percent of users.
While it will be hard to effectively measure impact from the Redirect Method, it's a innovative new step, considering every time tech firms find and delete propaganda accounts and content, more pop up.
The software can be used to target any kind of online radicalisation: indeed, the next roll-out, focussed on users in North America, will be designed for violent right-wing extremists.
The Redirect Method won't track individuals searching for the Isis keywords, and isn't designed to act as a law enforcement tool (although Google already complies with many government requests for user data).
"These are people making decisions based on partial, bad information," Green told Wired. "We can affect the problem of foreign fighters joining the Islamic State by arming individuals with more and better information."