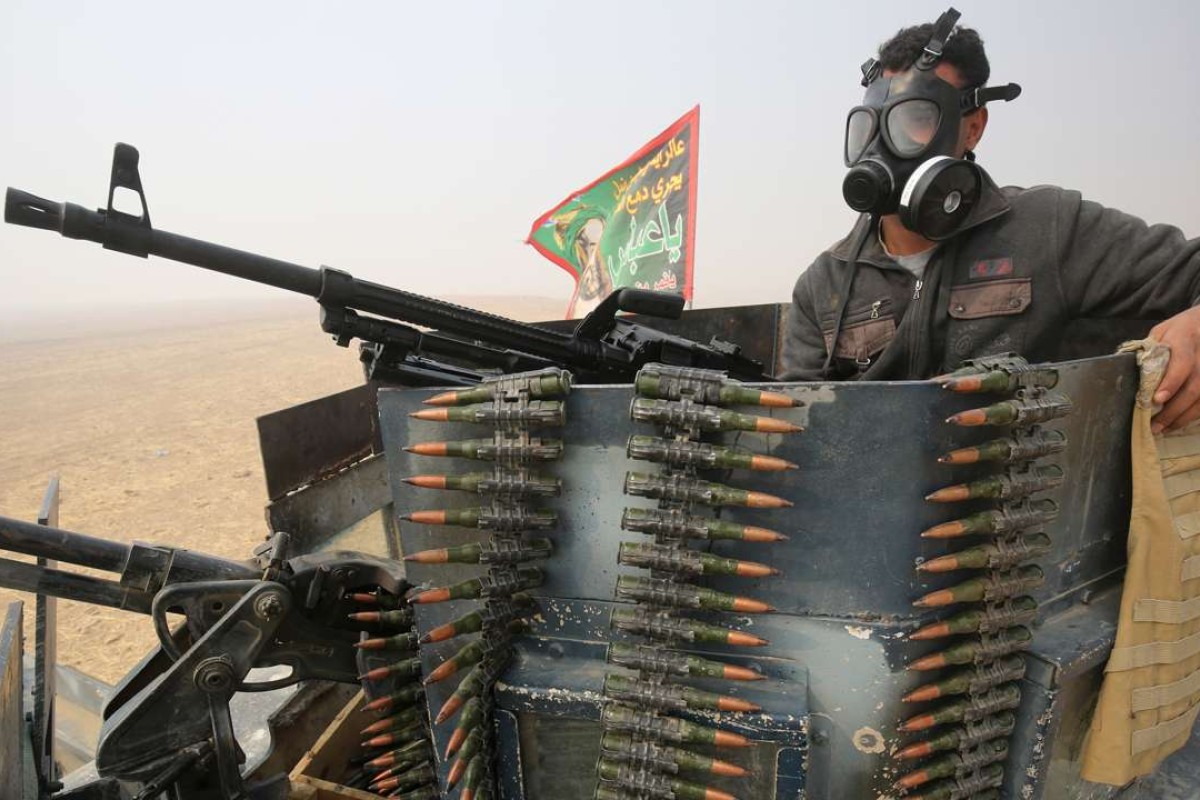 A member of the Iraqi forces in al-Shura, south of Mosul, prepares for an operation to retake the city from Islamic State. Experts say Asian militants fleeing Iraq could return home to pursue jihad. Photo: AFP
As Iraqi forces tighten the noose around Islamic State's last bastion in the country, it's tempting to hope that actions to wipe out its self-declared caliphate – one that has been characterised by rape, torture and summary beheadings – could deal the group a fatal blow.
Yet even those involved in the offensive on Mosul – described as the biggest battle in Iraq since the 2003 US invasion – acknowledge that rather than being a key step towards the total defeat of IS, it may instead lead to a shift in the theatre of conflict.
Iraqi pro-government forces south of Mosul ride in a vehicle adorned with an image of Iraqi Ayatollah Ali Husaini al-Sistani. Photo: AFP
There is rising concern among regional counterterrorism officials that the US-backed war machine encircling Islamic State (IS) is inadvertently spawning a jihadist alumni network in Southeast Asia and elsewhere made up of fleeing militants seeking a safe haven in their home countries.
"The threats posed by foreign terrorist fighter returnees are real and imminent," Jeremy Douglas, the representative for the UNODC in Southeast Asia and the Pacific, told This Week in Asia . "Increasing military pressure on [IS] in Syria and Iraq is now expected to result in more returnees including many that will want to pursue violent jihad in the region."
The UNODC (United Nations Office on Drugs and Crime) estimates there are 516 Indonesians, 100 Filipinos, 100 Malaysians and two Singaporeans fighting in Syria and Iraq. If even just a handful of these battle-hardened fighters return to home soil, they have the potential to orchestrate large scale attacks either by working in small cells or as "lone wolves".
A member of the Iraqi forces with a rocket propelled grenade launcher in al-Shura area, south of Mosul, ahead of the offensive. Photo: AFP
"We cannot underestimate the potential of returned IS fighters," said Noor Huda Ismail, the founder of the Jakarta-based counselling group Institute for International Peace Building, who has been dubbed the "terrorist whisperer" for his efforts in deradicalising militants. "Attacks in Southeast Asia since 2002 have been linked to a single network of fighters [who have returned from Afghanistan] and Filipino Muslim rebels."
Iraqi forces gather in the al-Shura area, south of Mosul, for the offensive to retake the city from Islamic State. Photo: AFP
This is not the first time the region has faced an influx of returning militants. In the late 1980s, home-grown veterans of the war against the Soviet occupation of Afghanistan returned to take up leadership positions in the regional militant group Jemaah Islamiah. What has spooked many observers this time, however, is the difference in scale.
The UNODC's Douglas said this generation of foreign fighters was unlike its predecessors. "The number that has travelled is much larger, is more operationally capable and they have access to resources and international criminal networks," he said.
US special operations forces on the outskirts of Raqqa, in Syria. An operation to retake the IS stronghold is expected in coming weeks. Photo: AFP
The Iraqi forces circling Mosul – about 30,000 soldiers, backed by Kurdish militia and US advisers – are aiming to drive out an estimated 6,000 IS insurgents from the city of 1.5 million people.
French President Francois Hollande this week urged coalition partners involved in the offensive to prepare for the aftermath. "The recapture is not an end in itself…we must also be very vigilant towards the return of foreign fighters," Hollande said in Paris on Tuesday.
"If Mosul falls, Raqqa will be [IS'] last bastion," said Hollande, referring to the Syrian city where a further 5,000 IS fighters are thought to be holed up and where a similar US-backed liberation is expected within weeks.
French President Francois Hollande has warned of the need for vigilance against returning foreign fighters. Photo: AFP
The US State Department estimates the group's total number in Iraq and Syria at between 18,000 and 22,000. Membership of the militant group, which grew out of al-Qaeda in Iraq, swelled after it seized large swathes of land in Iraq and Syria in a lightning campaign in 2014. Its leader Abu Bakr al-Baghdadi subsequently declared the establishment of an Islamic "caliphate" and urged Muslims around the world to migrate there.
Among the Southeast Asian militants who answered the call are thought to be the Indonesians Bahrun Naim, Abu Muhammad al-Indonesi ("Bahrumsyah"), Salim Mubarok Attamimi ("Abu Jandal") and Malaysian Muhammad Wanndy Mohamed Jedi ("Abu Hamzah")
Zachary Abuza, a Southeast Asian security and politics expert at the National War College in Washington, said the four had "considerable influence" and posed a threat to their home regions because of their ability to inspire radicalised individuals to carry out attacks in cells or as "lone wolves", he said.
Iraqi forces advance towards Mosul. An operation to retake another IS stronghold, the Syrian city of Raqqa, is expected in coming weeks. Photo: AFP
Indonesian authorities say Naim was the mastermind behind the January gun and bomb attack in Jakarta that killed eight people and wounded dozens.
He is alleged to have direct links with a group of six Indonesian men who were planning to launch a rocket attack on Singapore's glittering Marina Bay downtown district from a neighbouring island.
The plan was foiled after the men were arrested in a pre-dawn raid in early August.
Meanwhile, Malaysian police say Wanndy was behind the country's first IS-linked incident – a grenade attack in June at a bar on the outskirts of the capital Kuala Lumpur. Eight people were injured.
Andrin Raj, the Malaysia-based regional director for the International Association for Counterterrorism and Security Professionals, said a video showed Wanndy calling on supporters who couldn't afford to travel to Syria and Iraq "to contribute to the IS cause by attacking their home countries".
Naim, 33, has a prominent public profile because of his activities on social media.
Iraqi families displaced by the operation against Islamic State in Mosul. Photo: AFP
This Week in Asia accessed a website purportedly linked to him that contained articles on bomb-making, covert online surveillance or "sniffing", and commentaries on the state of Islamic militancy in various Asian countries. There is also an automated broadcast channel linked to him on the ultra-secure mobile messaging app Telegram.
Abuza said the web-savvy Indonesian was "key" to IS recruitment efforts in Southeast Asia. "Naim controls some of the most important social media and has been a key recruiter," he said.
But "I would doubt that any of [the four] individuals could successfully make it back to Southeast Asia," he said. "They clearly have significant influence and have proven able to organise or simply inspire attacks back at home. IS will demand far more attacks from its members and loyalists as it suffers on the battlefield, so these four remain very important."
Some analysts say there is too little focus on IS threats emanating from Southeast Asian countries other than Muslim-majority Malaysia and Indonesia.
A report this week by the Jakarta-based Institute for Policy Analysis of Conflict said Southeast Asian counterterrorism agencies faced a knowledge gap on IS-linked developments in the Philippines.
"The Philippines is important because as far as the ISIS leadership is concerned, it is the extension of the caliphate in the region," the report said.
"While it has not been formally declared as a province… ISIS has endorsed an Abu Sayyaf leader Isnilon Hapilon, as emir of Southeast Asia, and Southeast Asians in Syria have pledged loyalty to him," it said.
Displaced Iraqis who fled Mosul, Iraq's last major Islamic State stronghold, are reunited with relatives at a refugee camp in the Khazer area, near the Kurdish checkpoint of Aksi Kalak. Photo: AFP
Abu Sayyaf – 'bearer of the sword' – is a southern Philippine Islamist militant group that has amassed millions of dollars from extortions, kidnappings and piracy. Its leader Hapilon has a US$5 million bounty on his head from the US State Department for the kidnappings of Americans in 2001.
Indonesia this week said some of its nationals were travelling to the Philippines to seek training with Islamic militants there.
An Iraqi refugee who fled Mosul, the last major Iraqi city under the control of the Islamic State group, carries water tanks at the UN-run Al-Hol refugee camp in Syria's Hasakeh province. Photo: AFP
Thanawan Klumklomchit, the UNODC's counterterrorism programme officer in Southeast Asia, said Abu Sayyaf's "abilities to sustain and survive military pressure will be an important factor for [IS]'s development in the region".
This would be especially so if IS faced "a growing need to redirect its fighters, resources, and operations outside Syria and Iraq," she said.
WATCH: How does Islamic State get its money?
In Thailand, Thanawan said there were "reports of terrorist suspects and foreign terrorist fighters using the country to disguise travel patterns and transit, and to obtain fake travel documents".
"While the direct threat of [IS] is limited for the moment, there are concerns that [IS] propaganda may find resonance among violent extremists in the deep south," she said.
An Iraqi man checks the destruction in the Christian Iraqi town of Bartella, about 15km east of Mosul, after Iraqi forces retook control of the town from Islamic State. Photo: AFP
Thailand's deep south has long been plagued by violence from Muslim insurgents.
Joseph Parkes, Asia security analyst at risk consultancy Verisk Maplecroft, said Singapore and Malaysia stood out for their advanced efforts aimed at "preventing and minimising the impact of an attack".
"Both have acknowledged that attacks on their soil are a matter of when, not if," he said.
Still, he said the region's overall threat level should be kept in perspective.
"Support for Islamic State in much of Southeast Asia is very low, and in absolute and relative terms, far fewer citizens have travelled to fight with Islamic State from Southeast Asia than from Europe," Parkes said.
Noor Huda Ismail, 'terrorist whisperer'. File photo
For terrorist whisperer Noor Huda, a "hearts and minds" campaign aimed at returning foreign fighters and their families could be key to keeping that threat level in check.
He is working on a documentary that will showcase the emotional torment faced by a middle-aged Indonesian woman whose son and husband are fighting alongside IS in Syria.
An earlier documentary he made, Jihad Selfie, which features an Indonesian mother's efforts to deter her teenage son from taking up arms for IS, received critical acclaim this year for portraying the prominent role families play in turning militants away from violence.
"We must counter the narrative of IS, which is attractive to the man on the street…there is a social price to terrorism.