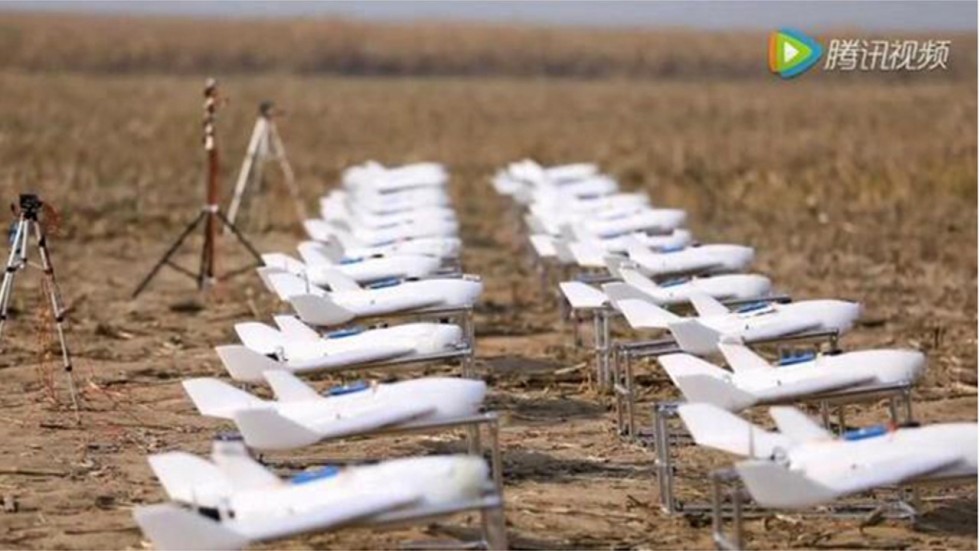 China Electronics Technology Group Corporation said it has flown 119 fixed-wing unmanned aerial vehicles simultaneously, the state-run Xinhua news agency reported.
The Chinese drone maker Ehang sent a squadron of 1,000 drones into the air earlier this year, state media reported, but they were powered by rotary wing technology.
No details were given in the report of where or when the Chinese company made its record attempt.
The company, one of the main suppliers of electronic equipment to the People's Liberation Army, told Xinhua that the technological breakthrough put China in a leading position on the large deployment of drones.
The machines were launched in several batches using a power-assisted take-off system similar to those used by fighter jets on aircraft carriers, according to the report.
Once in the air, the unmanned aircraft regrouped for a formation flight, then split away to pursuit separate targets.
Project scientist Zhao Yanjie was quoted as saying that large drone squadrons could become a disruptive force to "change the game" in air battles.
Drone controllers were previously only able to fly one or a small number of the machines because the unmanned aircraft depend heavily on human commands.
Zhao said their drones could now fly with little human intervention using computer technology and artificial intelligence.
China to require drone owners to register using their real names in bid to improve air safety
It allows the drones to coordinate flight paths to avoid collisions and to divide their labour to accomplish set missions, such as searching for a suspect vehicle in the largest possible area within the shortest time, Zhao said.
Multiple drones could have many applications beyond the military, such as aerial surveillance and helping establish an emergency communication network during a natural disaster, the report said.