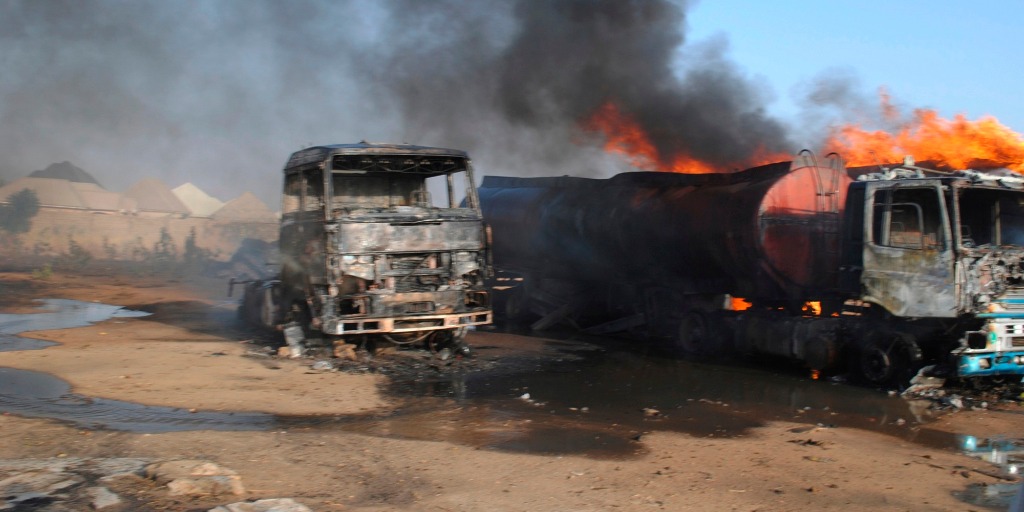 Bottom Line: Terrorist group Boko Haram has lost most of the territory it claimed as a "caliphate" within Nigeria back in 2014. But group still strikes government officials, troops and civilians from its few remaining safe havens in the northeast of the country, and is positioning itself to take terrorism global. The group's closer alignment with international terrorist organizations, such as ISIS in Iraq and Syria and al-Qaida in the Islamic Maghreb (AQIM) to the north, suggest that Boko Haram is looking to internationalize its attacks by targeting Western interests in the region. While the Nigerian military may still be able to make headway in ejecting Boko Haram from the last of its strongholds, the state will continue to struggle to control the country's vast northeast territory.
Background: Boko Haram, which roughly translates to "Western education is a sin," rallies against what it considers the source of Nigeria's endemic corruption—Western influence and the tools of its proliferation, particularly education. Boko Haram argues the only way to remedy the situation is through the establishment of Islamic governance with strict adherence to sharia law in northern Nigeria, home to the majority of the country's Muslim population.
Since 2009, Nigeria has experienced a devastating insurgency by Boko Haram, compounded by the government's military efforts to rout the group. The conflict has left more than 20,000 dead and some 2.5 million people displaced, according to senior U.S. State Department officials who spoke to The Cipher Brief anonymously, as a condition of the background briefing.
Following the extrajudicial execution of its founder, Mohammed Yusuf, in July 2011, Boko Haram's new leader, Abubakar Shekau, escalated the violence by attacking government installations, assassinating politicians and targeting civilians en masse. In August 2011, Boko Haram made international headlines after it attacked the United Nations building in the Nigerian capital of Abuja, leaving 23 dead. But the group's devastating impact became best known when Boko Haram militants stormed a school in the small town of Chibok in April 2014 and abducted 276 schoolgirls, sparking an international campaign to free them. The same year, Boko Haram overtook ISIS in Iraq and Syria as the deadliest terrorist organization on the planet, accounting for as many as 6,644 deaths, compared with ISIS' 6,073, according to the Institute for Economics and Peace.
The abduction of the Chibok girls prompted international pledges of support from China, France, Israel, Canada, the U.K. and the U.S., variously offering to assist in finding the missing girls; to negotiate for their release; to support security operations in the region; and to target Boko Haram through the sharing of intelligence.
By February 2015, international support focused on building a regional coalition to combat Boko Haram. African leaders of the Lake Chad Basin Commission—which includes Nigeria, Chad, Cameroon, Niger and Benin—decided to mobilize an 8,700-strong Multinational Joint Task Force (MNJTF) under the auspices of the African Union. Nigeria provides the largest troop contribution at 3,250 personnel, with Chad's 3,000 ranking second-biggest. The U.S. provides support bilaterally to MNJTF member countries. By March 2015 – on the eve of the election of Nigerian President Muhammadu Buhari – the Nigerian military to have retaken 10 of the 14 local governments that had been previously been controlled by Boko Haram at the beginning of the year.
John Bennett, former Director, CIA National Clandestine Service
"Given the porous borders in the Lake Chad region, it would be very difficult to completely deny a safe haven or sanctuary to small groups of Boko Haram fighters fleeing across Nigeria's borders. I suspect the Chadians and Cameroonians have a larger interest in preventing Boko Haram cadre from installing themselves, recruiting their nationals and making Boko Haram an even more potent regional threat. Bottom line is they want to keep it a Nigerian problem."
Issue: Boko Haram has shown that it is not dependent on holding territory and that it can shift fluidly between conventional, i.e. army-like tactics, and unconventional guerilla and terrorism-style tactics. That requires a nimble response from the Nigerian government in Abuja, which had relied on conventional military operations to drive Boko Haram out, when counterinsurgency tactics like strengthening local governance and local policing would be more effective in diminishing Boko Haram's strength and reach. The organization also has affiliated itself with international terrorist organizations intent on posing a direct threat to the U.S. and its European allies, possibly as a way to raised funds and ensure continued new recruits, especially with ISIS in Syria essentially no longer competing as a draw for money or manpower.
Amb. John Campbell, former U.S. Ambassador to Nigeria
"If you ask how effective a multilateral approach to Boko Haram is, I would say that we don't really know. I would say that what we know is that Boko Haram continues to be active, continues to carry out attacks, and would appear far from being destroyed."
J. Peter Pham, Director of the Africa Center, Atlantic Council
"At the end of 2014 [and] beginning of 2015, Boko Haram was a territorial power. It controlled territory possibly as large as West Virginia. It had essentially chased the Nigerian government out of parts of the country's northeast. What the operation then was intended to do was to not necessarily win back territory, but at least clear Boko Haram out of territorial rule. Fast forward to today. As a result of the 2015 campaign, it can be fairly said that Boko Haram does not control any territory."
Boko Haram responded to the increasing military pressure from Abuja by shifting away from its goal of occupying and governing territory in northeastern Nigeria. Instead, the group has returned to unconventional methods such as raiding villages and conducting suicide bombing campaigns in urban centers, crowded markets and military checkpoints, from its safe havens in the Sambisa Forest and Lake Chad. There has also been a clear increase in the geographical spread of Boko Haram's attacks, with numerous attacks surfacing in neighboring Chad, Niger and Cameroon, as well as a push toward kidnapping Nigerians and foreigners for ransom.
After suffering major losses in the face of the Nigerian military and its regional allies in the coordinated offensive, Shekau pledged allegiance to the Islamic State in March 2015 and changed the group's name to the Islamic State West Africa Provinces (ISWAP).
The instance was not the first time the group had brokered links to international terrorist groups. Ansaru, an al-Qaida affiliated Boko Haram splinter group established in 2012 under the leadership of Abu Musab al-Barnawi, has long sought to raise Nigeria's status as a battlefield in the global jihad against the West. Under the direction of Barnawi and his deputy Mamman Nur, who is wanted by Interpol for masterminding the August 2011 bombing of the UN headquarters in Abuja, Ansaru took part in training and operations in Algeria, Mali and Niger alongside AQIM, and has become known for kidnapping foreigners for ransom.
Since Boko Haram's official pledge to ISIS, Nur has been openly critical of the group's leader, Shekau, particularly of his indiscriminate killings of Sunni Muslims. Nur's criticism appears to have influenced ISIS leader Abu Bakr al-Baghdadi to name Abu Musab Barnawi, the son of Boko Haram founder Yusuf and former head of Ansaru, as head of ISWAP in August 2016, which currently operations out of the Lake Chad region. In the process, Shekau reverted to leading his own faction, taking on the name Jamaatu ahlis Sunna li-Dawati Wal Jihad (JAS), the original name of Boko Haram, and operating out of the Sambisa Forest.
Amb. John Campbell, former U.S. Ambassador to Nigeria
"The relationship between these two factions of Boko Haram is not clear, but what seems to be a major driver is the Barnawi group thinks that the Shekau group is killing too many Muslims. In other words, that it is applying rather too rigidly the 7th Century doctrine that apostasy from Islam merits death. So, essentially, the difference between the two groups is at one level apparently fairly profound. In terms of goals though, they are not so different. Their goal is essentially the destruction of the Nigerian secular state."
Response: Stunted by lingering fears over military coups in past decades, Nigeria's military has been left under-staffed, under-resourced, ill-equipped and often overextended in its pursuit of Boko Haram. But Buhari, along with regional allies such as Chad and Cameroon, has reinvigorated efforts against the terrorist organization, this time seeking to target the factions' respective safe havens directly, the State Department official told The Cipher Brief.
Since the beginning of January, Nigeria has mounted a new offensive coordinated with its neighbors Niger, Chad and Cameroon to rout ISWAP and Boko Haram in their strongholds, using airpower coordinated with ground forces. The Nigerian military has claimed that the military operations have allowed 700 hostages to escape from captivity.
Nigerian military offensives against Boko Haram in the past two years have weakened the terrorist group and taken critical towns in the country's northeast Borno state – including Bama and the insurgency's birthplace Maiduguri. But government troops have found it difficult to keep control of these centers while still pursuing Boko Haram along the country's borders.
The Nigerian military recently devised a plan to fortify larger towns to provide safety to the region's displaced millions who are unable to return to their rural homes. But this also implies that the Nigerian military does not have the strength to control the countryside. Similar to a fortified hamlet strategy of the kind used by the U.S. during the Vietnam War, the idea is not only to protect civilians from Boko Haram and meet their basic needs, but also to separate Boko Haram from its recruitment pool. Over time, these "garrison towns" could expand, like inkblots on a map.
Assistance from the U.S. has focused largely on intelligence sharing and assistance programs for disarmament, demobilization and reintegration of Boko Haram fighters, as well as security sector reform for the professionalization of the Nigerian military and police forces, one of the senior State Department officials told The Cipher Brief. "We are hoping to promote defection from the ranks of the enemy. We think that is the best way to defeat Boko Haram and ISWAP on the battlefield is to pull fighters from their ranks. And the effective way to do that is through these programs."
The U.S. has typically shied away from providing lethal equipment to the Nigerian military as a result of Abuja's history of human rights abuses. But a controversial arrangement between the two countries called for Nigeria to purchase up to 12 Embraer A-29 Super Tucano aircraft with sophisticated targeting equipment for nearly $600 million, according to U.S. officials who spoke to the Associated Press in August 2017.
J. Peter Pham, Director of the Africa Center, Atlantic Council
"Nigeria went through a period of history, until 1999, of military rule. In reaction to that, both civilian political elites in Nigeria and their counterparts in the West advised that, to avoid this danger in the future, starve the military of resources. So from 1999 to 2012, when the government of Nigerian President Goodluck Jonathan finally began to take seriously the threat of Boko Haram, the Nigerian military [had been] starved of resources. In a country of 190 million people, it had a standing army of roughly 150,000. To put that into perspective, if you armed every last mechanic, clerk, secretary, cook in the Nigerian army, you still wouldn't have enough military to put one person at every polling place for when Nigeria votes in an election. So in order to get resources, the Nigerian army went into the peacekeeping business. Nigeria is a major contributor to U.N. peacekeeping in Africa and beyond. But the skills required for peacekeeping and the skills required for counterinsurgency are two very different skillsets."
Amb. John Campbell, former U.S. Ambassador to Nigeria
"A couple weeks ago, the Nigerian army announced that it was shifting in the northeast – parts of Borno – to a so-called fortified hamlet strategy, which we have seen before in Vietnam and in Afghanistan. It has never really worked very well. The idea being that, essentially, civilians are gathered into fortified hamlets, where in theory they can be protected against the depredations of terrorist groups like Boko Haram. But also, if civilians are in fortified hamlets, they cannot provide Boko Haram with any kind of logistical support. A consequence of a fortified hamlet strategy would seem to indicate that the Nigerian army has given up on the idea that it can actually control the countryside, particularly after dark. It is almost like it is ceding the countryside to Boko Haram after dark. That is a big deal because it would indicate that some of the rather optimistic comments about progress being made against Boko Haram doesn't really hold up."
Anticipation: While Buhari has attempted to stamp out the insurgency in the northeast, it is likely that Nigeria will continue to face an asymmetric terrorist threat from Boko Haram and ISWAP. This could mean that internationally affiliated factions, such as ISWAP could seek further support from international groups such as AQIM and ISIS affiliates further north on the continent. ISWAP could also present a destination for foreign fighters migrating from the frontlines of Iraq, Syria and Libya who are seeking to join militant groups.
The same senior State Department official tells The Cipher Brief, "In a couple decades, Nigeria is going to be the third most populous country in the world. Two additional decades after that, Africa will be the most populous continent in the world. The bottom line is that the implosion of Nigeria, the implosion of West Africa, would be very much against the interests of the United States of America. That is why we are engaged in helping our partners fight Boko Haram and ISIS in West Africa."
J. Peter Pham, Director of the Africa Center, Atlantic Council
"Mamman Nur, the commander in the Barnawi faction – who is probably the most interesting character in this – represents the greatest long-term threat to the international community. He is the character in all of this who probably has the deepest foreign connections."
Levi Maxey is a cyber and technology analyst at The Cipher Brief. Follow him on Twitter @lemax13.