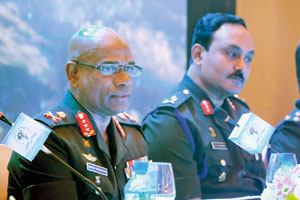 The Army's Signals Corps will hold a cyber security symposium and an Information and Communication Technology (ICT) exhibition on November 28 and 29 at the BMICH to mark 75 years of the unit's service to the nation.
The announcement came at a ceremony on Wednesday to launch the logo and website for the diamond jubilee year. Addressing the ceremony, Army Commander Mahesh Senanayake outlined the important role played by the Signals Corps in combating cyber security threats and providing ICT solutions and digital support to the Army.
The Commander said the symposium and the exhibition would showcase different aspects of ICT and cyber security applications, with the focus also being on the usage of social media and its positive and negative impacts on Sri Lanka.
Major General Ajith Wijesinghe, Signals Corp's colonel commandant, said with over seven decades of experience in handling ICT tasks, the unit was well equipped to handle ICT and cyber security challenges of the future. The symposium titled "Wave" will have as its theme "Cyber Space; Perpetual Battlefront for Future".
According to a statment issued by the Signals Corps, the symposium would provide a platform for military and IT experts to share and discuss next generation cyber security threats, ICT challenges, new products and innovations and related subjects, including the command-control-and-communications structures in the field of cyber security and intelligence gathering.
While the symposium will bring together the experts in the cyber security field, the exhibition, to be held at the same time, is an exercise to generate public awareness on the importance of ICT in military matters.
The Sri Lanka Signals Corps has come a long way in modern digital warfare techniques, the Signal Corps Commandent said. It has played a vital role in providing communication support for the command, control and administration of Sri Lanka Army, both during the war and peace times.
Today, the Sri Lanka Signals Corps has developed into a well-structured, highly integrated unit with seven Field Signal Regiments, two Information Technology Regiments, one Repair and Maintenance Regiment, one Cyber Security Regiment, one Electronic Warfare Squadron and School of Signal Training.
Several military and non military ICT professionals from England, Russia, China, India, Pakistan and Bangladesh are billed to participate in the symposium.
Universities, higher education and technical institutions, international and local ICT communities, Tri forces and the police have been invited for the exhibition which showcase the Signals Corps' ICT and cyber capabilities.

Army top brass addressing the Signals Corps media event. Pic by Amila Gamage