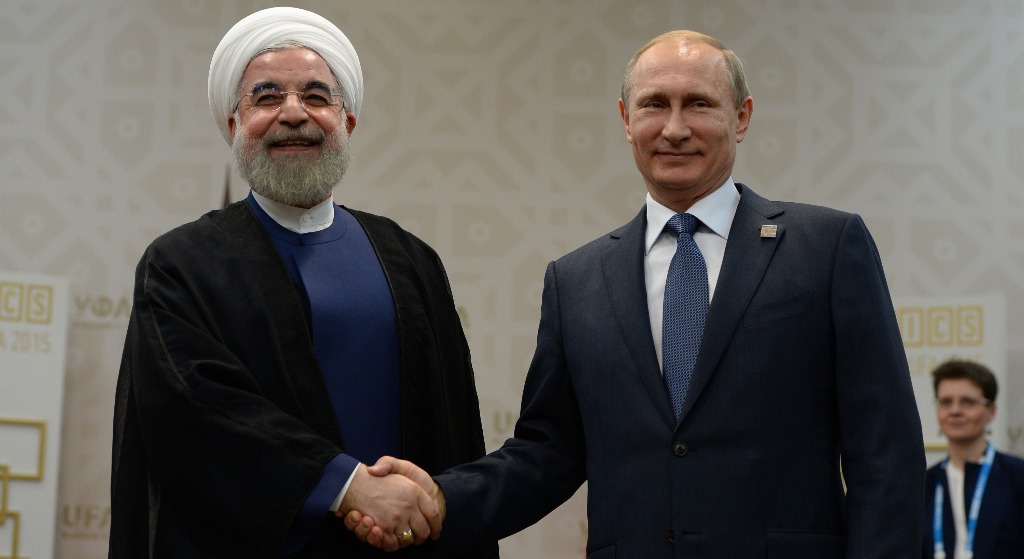 As the United States prepares to exit the Iran nuclear deal, or JCPOA, and restore sanctions on the nation, The Cipher Brief revisits the relationship between Iran and Russia, which continue to develop deep ties that run counter to U.S. interests. How will Washington's actions impact how Tehran and Moscow view their overlapping interests?
Bottom Line: Russia and Iran have forged a strategic symbiotic relationship anchored in economic, defense and energy cooperation. And as the Trump administration ramps up both rhetoric and sanctions on key figures and entities linked to the Iranian regime, and threatens to impose more – Washington could end up pushing Moscow and Tehran even closer together.
Background: Since assuming office, the Trump administration has sought to curb Iran's subversive regional behavior by imposing additional sanctions on Iranian individuals and entities involved in human rights violations, supporting terrorism and proxy militia groups in Syria, Iran and Yemen, and ballistic missile development.
In an October speech, President Donald Trump stated that his administration would be taking a four-pronged approach towards Iran: working with allies to counter Iran's destabilizing activity and support for terrorist proxies; increasing sanctions on Iranian entities; addressing Tehran's proliferation of missiles and weapons; and denying the regime all paths to a nuclear weapon. The U.S. Treasury Department subsequently designated the Iranian Revolutionary Guard Corps (IRGC) pursuant to Executive Order 13224 on global terrorism, due to its support for the Iranian Quds Force as well as other designated terrorist groups, including Hezbollah and Hamas. By including the IRGC under this executive order, the Treasury Department can increase sanctions levied against the organization.
One sticking point with respect to the Trump Administration's approach to Iran is the Iran nuclear agreement (JCPOA) reached between the P5 + 1 – the U.S., UK, France, Russia, China and Germany – and Iran in July 2015 and codified in UN Security Council Resolution 2231. The deal required Iran to reduce its nuclear program in exchange for releasing nearly $150 billion in frozen assets and the lifting of international sanctions targeting its nuclear program. On the campaign trail, Trump threatened to "rip up" the JCPOA on his first day in office, and has frequently called the agreement the "worst deal ever."
The deal's critics – including the White House – object to its narrow scope and so-called "sunset clauses" – the part of the deal that says restrictions on key Iranian nuclear activities will expire in 10-15 years, at which time critics say Iran will be able to operate an increased number of centrifuges, enhance its stockpile of low enriched uranium and conduct more advanced types of nuclear research and development.
The Trump administration has also accused Iran of supplying Houthi rebels in Yemen with missiles that were fired into Saudi Arabia in violation of U.N. Security Council Resolution (UNSCR) 2231. Tehran asserts that the JCPOA failed to directly address its aggressive ballistic missile program and has therefore continued to provocatively test longer range missiles while complying with the agreement.
The President, as mandated by Congress, is required to provide his stamp of approval regarding Iran's compliance every 90 days. Trump twice – reluctantly – certified that Iran abided by its nuclear commitments, but on Oct. 13th, refused to certify Iran's compliance for a third time. The White House emphasized that although Iran had fulfilled the "technical" aspects of the deal, it was "unquestionably in default of the spirit" of the agreement. He also stated that he would terminate the deal if Congress did not make substantial amendments to it.
Trump is currently in the midst of deciding whether or not to waive sanctions, as a failure to do so would essentially signal a U.S. withdrawal from the JCPOA. It is expected that the Trump administration will extend sanctions relief for Iran in accordance with the deal, according to the AP, but will also slap additional non-nuclear related sanctions on specific individuals and firms whose sanctions had been lifted under the JCPOA.
Trump also approved additional sanctions on Russia last August when he signed into law a Congressional bill passed in response to Russia's interference in the 2016 U.S. election, human rights violations, annexation of Crimea and military operations in eastern Ukraine. The sanctions targeted certain Russian individuals and major companies including state banks and oil companies. Moscow countered by ordering the U.S. to cut its diplomatic staff in Russia by 755 people. U.S. Secretary of State Rex Tillerson has said that Crimea-related sanctions will remain until Crimea rejoins Ukraine. The next deadline with respect to Russia sanctions is Jan. 29 when the White House must provide a list of businesses from various countries that have continued to do business with sanctioned Russian entities and could consequently face sanctions themselves.
Issue: A common mission unites Moscow and Tehran, whose worldviews are shaped by the same lens. Both countries aim to thwart the expansion of western democratic systems and raise their levels of influence at the regional and global levels at the expense of the U.S.
During the early 1990s, Russia helped Iran resurrect its nuclear program, signing a bilateral deal with Iran in 1992, which included an agreement to construct a nuclear power plant. During a follow-up agreement reached in 1995, Russia agreed to complete the construction on Iran's Bushehr power plant, which was eventually accomplished in 2011. In October 2016, Russia began building its second nuclear power plant in Iran as part of a $10 project.
Norm Roule, former National Intelligence Manager for Iran (NIM-I), Office of the Director of National Intelligence
"Russia's main cooperation with Iran is limited to work on the Bushehr power plan. Started by Germany in 1975, the plant languished for decades as a result of the 1979 Revolution, incredible mismanagement and cost overruns. Russia took over the project in the 1990s but even then, shoddy work and sanctions delayed the opening until September 2011. In November 2014, Russia and Iran agreed that Moscow would build additional civilian plants and in October 2017, Russia's atomic energy organization ROSATOM announced that construction of the second Bushehr nuclear power plant had begun. This project will take about ten years to complete."
"Any involvement that Russia has in Iran paints Russia in a picture of great power status, which is true. They are indeed always seeking to be key world players. So to the extent that they can be an ambassador to rogue nations, if you will, Russia loves to put itself in a position where it says that it can be of assistance because it can talk to those guys. That's true because Putin is fascinated, and I would argue obsessed, with having Russia treated with respect he believes it deserves as a great power."
The Russian and Iranian alliance has challenged U.S. interests in the Middle East, particularly as both nations oppose the longstanding U.S. position that Syrian President Bashar al-Assad "must go." Since September 2015, Russia has also worked alongside Iran to support Assad and his forces in their war against rebel and jihadist groups. Initially, Russian support consisted of air strikes against targeted groups, but over the course of the conflict, Moscow has deployed military advisors and special operations forces on the ground. In December, Russia announced that it would be establishing a permanent presence at its naval and air bases in Syria. The Assad regime has also received significant backing from Hezbollah, an Iranian-backed group in southern Lebanon and several members of the Iran's elite paramilitary force, the Iranian Revolutionary Guard Corps (IRGC), have also been spotted in Syria, including senior advisors such as Brig. Gen. Hossein Hamedani, who was killed in Syria in October 2015.
"What are the inherent interests that Russia would have with Syria? Aside from exerting its influence, expanding its influence and reasserting its great power status as a player in the Middle East, there really are quite few. What they are really after is showing that they are a major world player in the Middle East. That's why they like to have a good, close relationship with Iran and that's why both Iran and Russia continue to support the Assad regime."
Although it participated in the international sanctions regime targeting Iran for its nuclear weapons program, Russia has stood by the Iranian government amidst the recent economic and political protests that broke out across Iran. During a visit by Iranian Foreign Minister Javad Zarif to Moscow this week, Russian Foreign Minister Sergey Lavrov reassured Zarif that Moscow views the Iran nuclear deal as a "key contribution to the regional stability and nuclear non-proliferation." A statement released by the Russian Foreign Ministry after the two ministers met said that the "Possible disruption of the JCPOA's implementation due to Washington's actions would go against the task of maintaining international and regional security and stability and negatively affect multilateral efforts in the field of nuclear non-proliferation."
"Politically, Moscow acts as Iran's protector in the UN Security Council as demonstrated by its support for Iran in recent unrests and repetition of Iran's hollow claim that the unrest was foreign inspired. Moscow bizarrely implied that the Iran's handling of the protests this past week could be compared to how we handled the Occupy Wall Street movement or riots in Ferguson, Missouri."
"What really concerns Russia, and specifically Vladimir Putin, is the expansion of western democratic systems of government really anywhere because that's a real threat to Russia. So the idea is of regime change where there are more authoritarian regimes is a very significant fear and threat for Russia. And Iran has that in common with Russia. For example, look at what happened just recently when the Trump Administration said that it fully supports the people who were on the streets protesting against Iran. The way the Russians read that is a much bigger and much more threatening picture because they figure that if that can happen in Iran and in places like Libya where basically the local autocrats can lose their jobs and perhaps even get killed like former Libyan leader Muammar Ghaddafi, that's a real threat to guys like Putin who run a similar system. That's one of the reasons why Iran is particularly important to Putin."
In November 2016, Russia completed its delivery of five S-300 advanced surface-to-air defense missile systems to Iran as part of a $800 million deal that was signed in 2007. Russia had suspended the deliveries in 2010, but resumed them once the Iran nuclear accord was reached in 2015. The S-300 missile system helps Iran defend against foreign attacks on its nuclear facilities as it now has the capability to strike incoming aircrafts at a distance of 120 miles and ballistic missiles at a distance of 30 miles. In August Iran deployed one of these missile systems at its Fordow underground uranium enrichment facility.
"The Russian have long been frustrated and somewhat envious of the preeminence of the U.S. in the region dating back to the 1960s and 1970s when the Soviet Union was a strong player in the region, particularly with Egypt. Russia saw that influence dissipate as the Cold War died out and with the collapse of the Soviet Union. The current relationship between Russia and Iran is a marriage of mutual interests. It fits both of their priorities in the supporting the Assad regime albeit for different reasons. It counterbalances the U.S. and it provides a limited partnership against Saudi influences."
"Some people have also said that it is very helpful to Putin internally because anytime Russia is viewed as dealing with foreign exotic countries like Iran or North Korea, Russians think better of him and that's good for his popularity. I don't buy that argument as much because Putin runs a very effective internal security system that would really get rid or minimize internal threats. But for Putin to be able to say the Russia is playing a key role as an intermediary between that's a significant geopolitical goal just to be able to play that role." So at the 30,000 foot level, it is less about Middle Eastern politics. For Russia it is really being considered by the world as a great power and being the key to solving difficult problems such as the ones the west have with Iran."
Response: The U.S. could aim to drive a wedge between the two nations, thereby limiting their joint adventurism in the Middle East. However, such tactics would require Washington to engage directly with Tehran, while excluding Moscow, something the current administration has not demonstrated a willingness to do. At the same time, while the Russia-Iran relationship poses its share of difficulties for the U.S., other budding partnerships around the world, may pose even greater challenges and take precedence for Washington.
A former U.S. government Iran analyst told The Cipher Brief: "The developing Russia-Turkey or Iran-China relationships should be more worrying to U.S. policymakers. Iran, with or without Russian support, can challenge and upset US policies in the region. Having Russian cooperation gives Tehran some extra margin to resist U.S. and allied pressure. It also potentially provides some extra cover for Iran's efforts to disrupt and defeat US and allied attempts to roll back Iran's regional presence and overstated influence."
"The big Western mistake that a lot of governments make is based on our western precepts and our western lens as to how we see the world – primarily that if somebody is offering to help in a situation, let's see if we can all cooperate and get this fixed. The Russians know that we do this and they take advantage of that greatly. So if you want to figure out what the best path or course of action is with Iran, my first response might be to try and get Russia out of the room because having Russia there as an entity and participating somehow is just going to make it that much harder. I don't see any real positive impact that the Russians can have on any dealings that the U.S. government wants to have with Iran."
Anticipation: Although the Russia-Iranian alliance is primarily one of convenience defined by mutual interests, the two countries stand to benefit from continued cooperation. It should come as no surprise if the U.S. witnesses an uptick in Russian support for Iranian adventurism in the Middle East, especially in countries such as Iraq and Yemen where Iran is aiming to bring governments and populations into its Shia crescent.
Norm Roule, former National Intelligence Manager for Iran (NIM-I), Office of the Director of National Intelligence
"Moscow and Tehran have made no secret of their interest in reducing U.S. influence in the region. In one of their meetings, Iran's Supreme Leader publicly stated that he hoped their cooperation would "isolate America." At best, Russia's involvement in the region will complicate efforts to pressure Iran and Damascus to adopt more responsible behavior. At worst, Moscow's willingness to tolerate Iran's increasingly bold adventurism will contribute to conditions that will lead to a regional conflict. My sense is that the Russia-Iran relationship will continue on its current course. Transactional, open to suspicion, but a dynamic which will sustain and encourage Iran's aggressive behavior."
Bennett Seftel was the analyst responsible for this brief. Follow him on Twitter @BennettSeftel. This article originally ran on January 12, 2018.