By SYDNEY J. FREEDBERG JR
AFA: Air Mobility Command's tankers and transports would be big, slow targets in a major war, but without them, most of the US military can't move. The imperative to fly fuel, supplies, and troops in the face of high-tech threats – from anti-aircraft missiles to cyber attack – is forcing AMC to change its approach to aircraft upgrades, communications networks, and what they ask airmen to think about every day, its new commander told reporters here this morning.
AMC wants to stimulate innovative thinking by all its people,
Gen. Maryanne Miller
said, but "not so much on
innovation
for innovation's sake" – they have to be "much more focused." On what? "It needs to be on our resilient and agile response," she said, "being able to operate in that contested, degraded, or operationally challenged threat environment."
There are a lot of buzzwords in that sentence, but they add up to a major change in mindset for strategic transport and logistics. While roadside bombs have ravaged ground convoys in Afghanistan and Iraq, US pilots and sailors can usually assume that they'll arrive alive. Until last year, the joint Transportation Command – overseeing Air Mobility Command, Military Sealift Command, and the Army's Surface Deployment and Distribution Command – didn't even factor into its war plans that an enemy might shoot down planes or sink ships. But Air Mobility Command is already under constant attack in cyberspace, and advanced adversaries such as Russia, China, or even Iran have long-range missiles to challenge US dominance of the air and sea – what's known as an Anti-Access/Area Denial (A2/AD) strategy.
Transportation Command is now well into a congressionally-directed Mobility Capabilities & Requirements Study (MCRS) that "is looking at all the things that you're describing," Miller said when I asked about such factors. TRANSCOM is working with the Pentagon's independent office of Cost Assessment & Program Evaluation (CAPE) and the Air Force, she said, with AMC providing extensive data on how it's operated over the years. Due out "later this fall," she said, the study will look at the evolving threats and make recommendations on how many tankers and transports AMC needs, and of what kinds.
A KC-46 tanker refuels a C-17 transport in mid-air.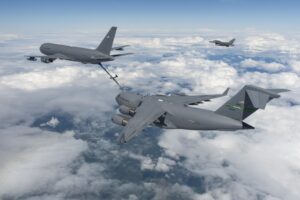 AMC is already making its aircraft and networks harder targets. For example, its workhorse C-17transport – 174 feet long with four jet engines to haul up to 82 tons of cargo – is getting an upgraded cockpit and a secure communications system. AMC's Air Operations Center, the 618th AOCat Scott Air Force Base, Ill., is being upgraded to communicate better not just with AMC's own aircraft but with the rest of the Air Force, the other services, and, especially, intelligence on threats.
"The crews will understand and have a visual on everything that's happening," Miller said, "(and) the AOC will be able to communicate without fail to the aircrews."
The Air Operations Center upgrades, Miller added, are part of Air Force Chief of Staff Gen. David Goldfein's push for what's called Multi-Domain Command & Control. MDC2, in turn, is part of the larger all-service effort to coordinate operations across all domains: air, space, cyberspace, but also land and sea. "We're using the structure that the chief has put in place, she said, "and we are working closely with his staff on the Next Generation AOC."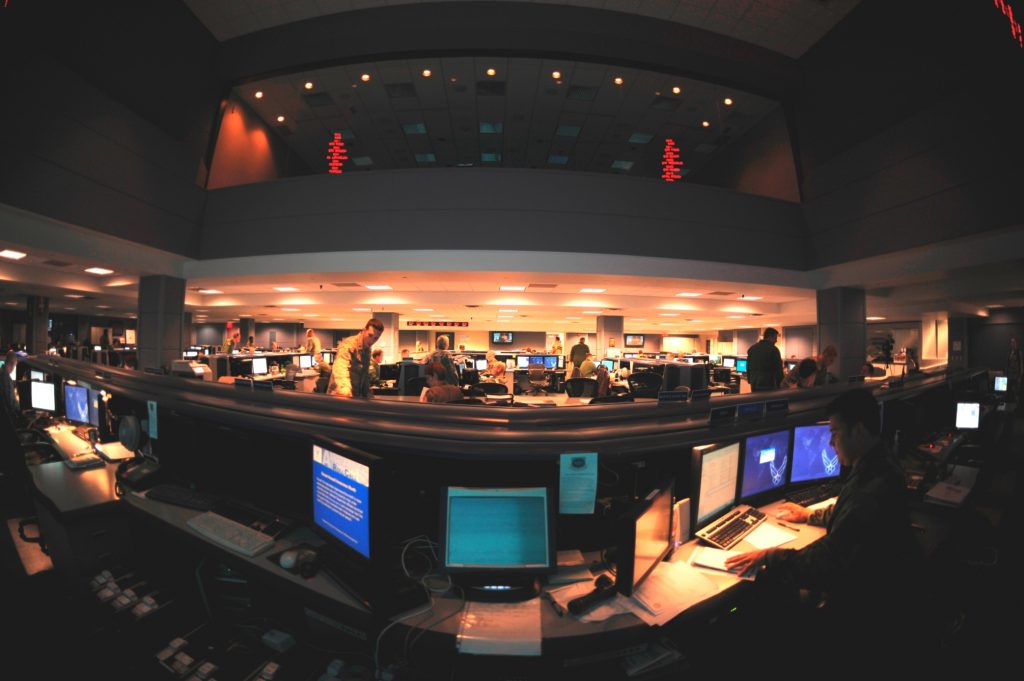 Air Mobility Command's Air Operations Center, the 618th AOC at Scott Air Force Base, Illinois
Cybersecurity & Survivability
While all parts of the military are worried about high-tech interference with their communications, however, Transportation Command has suffered particularly relentless cyber attacks, in large part because it communicates constantly with contractors' unclassified networks. "Our folks on the AOC floor are monitoring that every day," Miller said. She's working closely with the new TRANSCOM commander, Gen. Stephen Lyons, on improving cybersecurity, she said, and together "one of our first visits is going to be to CYBERCOM."
The Miniature Air-Launched Decoy offers the unique combination of modularity, reliability, and cost efficiency, making this effector a vital weapon in any arsenal.
Secure communications, from HQ to aircrew, is so critical because the best way to survive a threat is to know where it is and fly around it. Miller identifies this kind of "situational awareness" as one of the four pillars of survivability.
Lockheed Martin concept for a stealthy "Advanced Tanker," on display at AFA
The other three are more about protecting individual aircraft from detection and destruction if they do have to fly through the threat zone: countermeasures, self-defense systems, and "signature management." The first two are traditional upgrades to existing aircraft – radar jammers or chaff dispensers, for example – but it's more complex to manage how the aircraft shows up on radar, radio, and infrared sensors. To some degree, aircrews can reduce their signature simply by talking less on the radio and not using their radar, both of which produce detectable radio-frequency emissions. Heat reduction might require upgraded engines that don't show up as much on infrared. And ultimately, making big aircraft harder to detect will require entirely new designs. (The Air Force has similar concerns about its big radar and reconnaissance planes, such as JSTARS).
"We're looking at airframes of the future that will have common cockpits, advanced propulsion systems, (and) signature management properties associated with the airframe itself," Miller said. The goal "really is understanding (how) to modify or buildan airplane that allows us to operate through that threat environment." (Emphasis ours).
So how long can the Air Force keep upgrading and modifying the C-17, for example, and when might it need to go to an all-new aircraft? "It is an amazing airplane…and we are putting the right modifications on it for the future fight," Miller said. "The C-17 fleet will be around for a long time. The follow-on aircraft — we have not even begun to have that conversation."