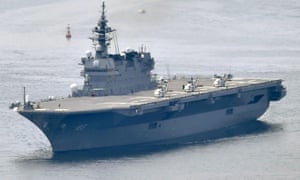 Japan is to acquire at least one aircraft carrier for the first time since the second world war, as it attempts to counter Chinese maritime expansion in the Pacific ocean.
The government will upgrade its two existing Izumo-class helicopter carriers so they can transport and launch fighter jets, according to media reports. The plans are expected to be included in new defence guidelines due to be released next month.
The reported order is in addition to 42 F-35 jets it has already bought from the US.
'New trajectory': Abe heads to China as Trump trade threats help bury old tensions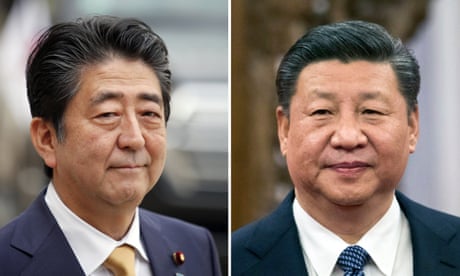 Japan's prime minister, Shinzo Abe, told Trump in September that high-spec military equipment would be "important to strengthen Japan's defences".
By refitting its two 248-metre-long Izumo-class vessels, which can each carry up to 14 helicopters, Japan would in effect be acquiring its first aircraft carriers since the end of the war – a move critics say violates its postwar constitutional commitment to a purely defensive role for the military.
Previous Japanese governments have ruled out acquiring aircraft carriers, adhering to the postwar consensus that the vessels' capabilities could be interpreted as offensive, in a possible violation of the country's "pacifist" constitution.
Increased Chinese naval activity in waters far from its shores has added to bilateral tensions over the Senkakus, uninhabited islets in the East China Sea that are administered by Japan but claimed by China, where they are known as the Diaoyu.
"It's desirable that the Izumo can be used for multiple purposes," the defence minister, Takeshi Iwaya, told reporters this week.
The carriers will be deployed to defend Japan's remote south-western islands, according to the Mainichi Shimbun.
The defence white paper, published in August, also voiced concern about Chinese military spending and naval activity in the South China Sea.
… we have a small favour to ask. Three years ago we set out to make The Guardian sustainable by deepening our relationship with our readers. The same technologies that connected us with a global audience had also shifted advertising revenues away from news publishers. We decided to seek an approach that would allow us to keep our journalism open and accessible to everyone, regardless of where they live or what they can afford.
More than one million readers have now supported our independent, investigative journalism through contributions, membership or subscriptions, which has played such an important part in helping The Guardian overcome a perilous financial situation globally. We want to thank you for all of your support. But we have to maintain and build on that support for every year to come.
Sustained support from our readers enables us to continue pursuing difficult stories in challenging times of political upheaval, when factual reporting has never been more critical. The Guardian is editorially independent – our journalism is free from commercial bias and not influenced by billionaire owners, politicians or shareholders. No one edits our editor. No one steers our opinion. This is important because it enables us to give a voice to those less heard, challenge the powerful and hold them to account. Readers' support means we can continue bringing The Guardian's independent journalism to the world.