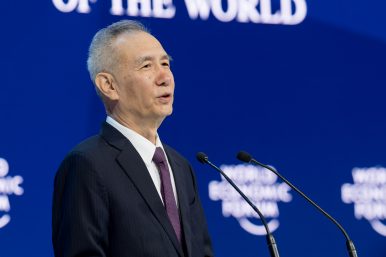 At least for now, signals show that China is still striving for a trade deal with the United States despite the row over Huawei.
On January 29, China's state news agency Xinhuamade public that Chinese Vice Premier Liu He, China's top negotiator in the U.S.-China trade dispute, had arrived in Washington D.C. together with his team members on the afternoon of January 28 — hours after the United States announced indictments against Chinese telecommunications conglomerate Huawei, its former CFO Meng Wanzhou, and Huawei's affiliate companies.
"These charges lay bare Huawei's blatant disregard for the laws of our country and standard global business practices," according to FBI Director Christopher Wray. "Companies like Huawei pose a dual threat to both our economic and national security, and the magnitude of these charges make clear just how seriously the FBI takes this threat."
"For over a decade, Huawei employed a strategy of lies and deceit to conduct and grow its business," U.S. Attorney for the Eastern District of New York Richard P. Donoghue addedd.
In particular, Meng — daughter of Huawei's founder Ren Zhengfei — is officially charged with bank fraud, wire fraud, and conspiracies to commit bank and wire fraud. She could face a maximum penalty of 30 years in prison if found guilty of the charges.
As The Diplomat has been following, Meng was arrested in Vancouver, Canada on December 1 last year at the request of U.S. law enforcement authorities. Since then, the increasingly fierce row between Beijing, Ottawa and Washington over the case has been dominating the headlines of global media. Most notably, China detained two Canadians on suspicion of endangering national security shortly after Meng's arrest.
Soon after the U.S. announcement, Huawei issued a statement, claiming that the company was "disappointed to learn of the charges brought against the company."
Huawei denied that the company and its affiliates had committed "any of the asserted violations" and said the company "is not aware of any wrongdoing by Ms. Meng."
Additionally, the statement revealed that after Meng was arrested in Canada, the company had tried to "discuss" the case with U.S. Department of Justice but the Department "declined without giving reasons."
Given the timing, there are concerns that the U.S. indictments against Huawei could harm the upcoming bilateral trade talks. But multiple signals show that, at least for now, China is still striving for a trade deal with the United States despite the latest development.
In a show of how seriously Beijing takes the upcoming high-level talks with Washington, China's delegation arrived in Washington two days ahead of the meeting, which is scheduled for January 30-31.
Other than Liu He himself, China's team is composed of all the department heads that oversee China's economy and macro policy, including Governor of the People's Bank of China Yi Gang, Vice Chairman of the National Development and Reform Commission Ning Jizhe, Deputy Director of the Office of the Central Commission for Financial and Economic Affairs and Vice Finance Minister Liao Min, Vice Foreign Minister Zheng Zeguang, Vice Minister of Industry and Information Technology Luo Wen, Vice Minister of Agriculture and Rural Affairs Han Jun, and Vice Minister of Commerce and Deputy China International Trade Representative Wang Shouwen.
The "all star team" will allow Beijing to reach a detailed and substantial deal with Washington, if one is there to be reached.
After the news of U.S. indictments against Huawei broke out within China, China's Foreign Ministry issued a specific statement, but the tone it took was comparatively moderate. The statement just urged Canada again to "immediately release Ms. Meng Wanzhou and ensure her lawful and legitimate rights and interests, and stop risking its own interests for the benefits of the U.S."
At the regular press briefing on January 29, the ministry's spokesperson, Geng Shuang, commented on the upcoming trade talks in a positive manner. He said:
We hope that the two teams will follow the important consensus reached between our two presidents and work in the same direction for a mutually-acceptable solution. This is also the shared expectation of the international community.
The Chinese Foreign Ministry's latest remarks signal that Beijing is still attempting to handle the trade negotiations and Huawei case on separate tracks with Washington, but at the same time, escalate pressure on Ottawa.