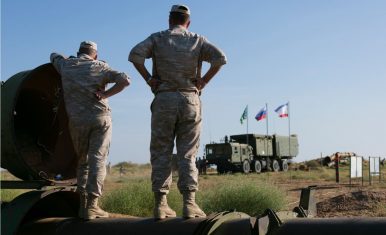 https://thediplomat.com/2018/02/russias-military-cooperation-goals-in-central-asia/
What military threats keep Russia and its Central Asian partners up at night?
By Dmitry Stefanovich, January 31, 2018
The year 2017 marked several important milestones for Russian-led "not-so-allied" alliances: the Collective Security Treaty (on the basis of which an organization of the same name, the CSTO, was created) turned 25, while the Commonwealth of Independent States Joint Air Defense System (CIS JADS) received an "adaptation roadmap" to tackle Air-Space Defense tasks. Several high-profile multilateral military exercises took place, and their analysis may help understand the grand strategy of Russia and other participants in these groupings.
Guardians of CIS Air and Space
Currently, Armenia, Belarus, Kazakhstan, Kyrgyzstan, Russia, Tajikistan, and Uzbekistan (as well as Turkmenistan as an observer)
provide
the Air Defense System of the CIS Member States (CIS Air Defense Forces) with 19 aviation units, 38 anti-aircraft missile units, 16 signals units, nine air defense brigades, and three electronic warfare (EW) units.
The main directions of JADS adaptation
presumably
include developing the regulatory framework, improving the organizational structure and management system, further integrating the forces and assets, and creating several subsystems, i.e. reconnaissance and early warning, countering aerospace attacks, command and control, and maintenance.