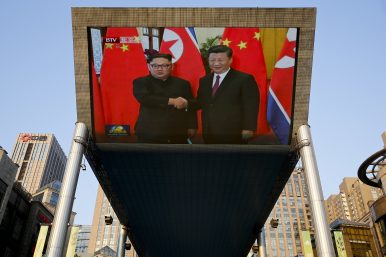 China's President Xi Jinping will make his first state visit to North Korea this week, according to Chinese state media. Citing Hu Zhaoming, spokesperson for the International Department of the Chinese Communist Party's Central Committee, Xinhua saidXi would be in North Korea from June 20 to 21, at the invitation of North Korean leader Kim Jong Un.
Xi and Kim's first meeting came in March 2018, a full five years after Xi assumed office, and over six years since Kim became North Korea's "supreme leader." Since that belated meeting, the two sides seemed to be making up for lost time — Xi and Kim have met four times in the past 15 months. Notably, however, Xi has not yet made a trip to North Korea, despite reportedly accepting Kim's invitation to do so in 2018. The last time the top Chinese leader traveled to North Korea was in 2005, when then-President Hu Jintao made the trip.
In fact, Xi broke with longstanding Chinese diplomatic precedent by visiting South Korea first. Generally Chinese leaders stop in Pyongyang before Seoul, but Xi made a 2014 state visit to South Korea, then under President Park Geun-hye, without even setting foot in the northern half of the Korean Peninsula. That was part of a warming trend in China-South Korea relations, while China-North Korea relations at the time seemed to be on ice.