By Le Dinh Tinh and Hoang Long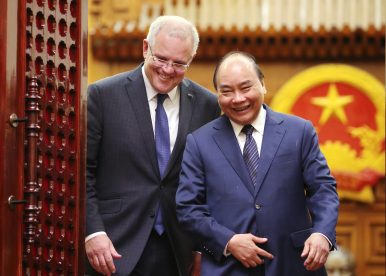 Middles powers need each other more, not less, as great power competition roils the Asia-Pacific.
On August 23, Australian Prime Minister Scott Morrison became the first Australian leader to pay an official visit to Vietnam in 25 years.
The visit comes at an important point in time. Global affairs have been gripped by escalating competition between the United States and China in various areas, from politics and trade to defense and technology. The seemingly endless trade war between the U.S. and China has arguably put more strain on already weak global growth and remnants of the volatile recovery from the 2008-2009 financial crisis. High public debt and anti-globalization sentiments are on the rise in different parts of the world. The Fourth Industrial Revolution, while hailed by many, risks widening the technological gaps between nations and sowing division within societies. Transnational challenges such as climate change, food security, protection of the environment and regional flashpoints such as the Korean Peninsula or the South China Sea (which Vietnam refers to as the East Sea) continues to demand for more political will and international cooperation. The global landscape usually comprises positive and negative forces but at its current state is bears more dark shades and unpredictability.