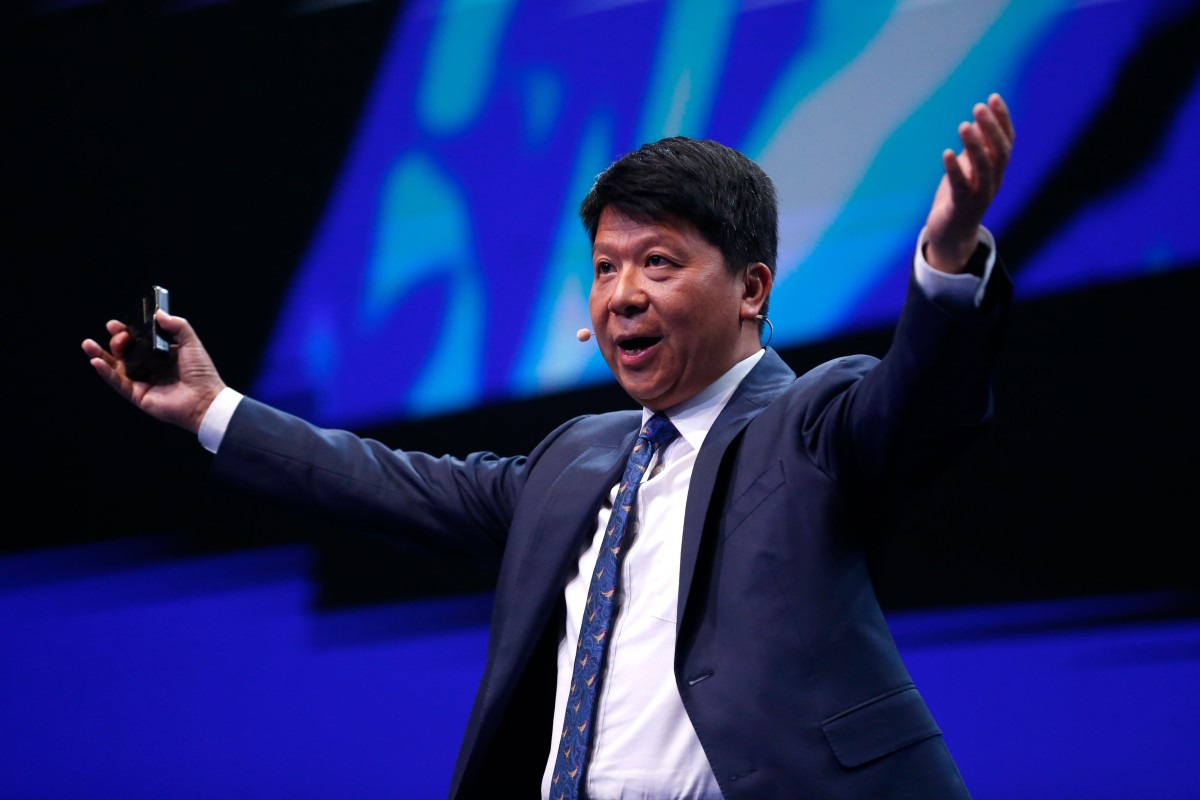 Huawei Technologies' consumer business group became the biggest contributor to a record revenue for the first time last year, reflecting the gains that Chinese smartphone brands have made both at home and abroad amid flat sales at its network equipment business.
The world's largest telecommunications equipment supplier on Friday reported a 19.5 per cent jump in annual revenue to 721.2 billion yuan (US$107.1 billion) in 2018, capping a year in which it came under siege as the US government
With its latest financial results, Shenzhen-based Huawei has joined the ranks of multinational technology companies in the US$100 billion club, which includes the likes of Apple and Google parent Alphabet.
Revenue for Huawei's carrier business reached 294 billion yuan, roughly the same as the previous year, as revenue at its consumer business surged 45 per cent to 348.9 billion yuan. Revenue at Huawei's enterprise business rose almost 24 per cent to 74.4 billion yuan.
"Flat sales in the carrier business were due to 4G roll out while 5G is just starting," said Guo Ping, Huawei's rotating chairman, at Friday's media briefing. "We expect more large-scale deployment of 5G in 2019 … 5G will enable broader connectivity, not just among people but also between people and things and among things. That will create huge opportunities."
Group revenue growth last year was faster than the 15.7 per cent in 2017. Net profit hit 59.3 billion yuan, up 25.1 per cent year on year. The company said it invested 101.5 billion yuan in research and development in 2018, roughly 14 per cent of its revenue.
Privately-held Huawei posted its earnings a day after the UK said the company poses a major risk to the country's telecoms networks because of the company's failure to fix security flaws found in its equipment and software, according to a report by a government-led watchdog, which ruled out Chinese state interference as the cause of those defects.
Earlier this week, though, the European Commission ignored US calls for a blanket ban on the Chinese telecoms gear supplier, as it announced a series of cybersecurity recommendations for 5G mobile networks across the continent. While acknowledging US concerns, the commission urged its member-states to assess cybersecurity threats to 5G infrastructure in their national markets.
"The UK report states once again that Huawei equipment has no back doors … and that the UK network is not more vulnerable than in previous years," said Guo in the media briefing. "The UK has raised higher requirements to us, and Huawei's board of directors [last year] made the decision to invest an initial 2 billion yuan to improve our capabilities. We want to make sure our results and processes are trustworthy."
The road ahead is likely to be challenging though. It is complicated by the US-China trade war, Washington's efforts to block the international deployment of the firm's 5G equipment because of security concerns, and a US case that accuses the Chinese company of financial fraud and violation of trade sanctions against Iran, among nearly two dozen charges.
"Cybersecurity and user privacy protection are at the absolute top of our agenda," said Guo, in Friday's earnings statement. "We are confident that the companies that choose to work with Huawei will be the most competitive in the 5G era."
Guo added that countries that choose to work with Huawei will "gain an advantage for the next wave of growth in the digital economy".
Sabrina Meng Wanzhou, daughter of Huawei founder Ren Zhengfei, used to lead the announcement of the company's annual results in her capacity as its chief financial officer. She now faces US extradition proceedings in Canada and has sued the Canadian government and police, alleging that her arrest and detention last December was in violation of her constitutional rights.
Earlier this month, Huawei said it has filed a lawsuit against the US government in a bid to overturn the US federal ban on its gear, as the company faces increasing scrutiny from the US and its allies over the security of its telecoms network equipment.
"Huawei complies with all the applicable laws and regulations in countries where we operate," said Song Liuping, Huawei's chief legal officer, at Friday's briefing. "We are always open and want to communicate with the legislative and executive branches of different governments and are very willing to [cooperate with] their investigations."
On Wednesday, Huawei's cross-town competitor ZTE Corp, China's second largest telecoms equipment manufacturer, reported a record annual loss of 6.98 billion yuan in 2018 after the company ceased major operating activities for nearly four months from April last year. ZTE agreed to pay an additional US$1 billion in fines to the US Department of Commerce and put US$400 million as surety as part of its settlement for violating US prohibitions against selling equipment to Iran.
Huawei's record revenue growth was driven by the fast growth from its consumer business group, led by its mobile segment head Richard Yu Chengdong, who has vowed to win 50 per cent of the Chinese smartphone market by the end of this year as it seeks to shoot down South Korea's Samsung Electronics from the global sales crown no later than 2020.
The combined shipments of Huawei and Honor-brand smartphones increased by 34 per cent to reach 206 million units in 2018, compared with the 8 per cent decline and 3.2 per cent slide in shipments of Samsung and Apple last year, according to IDC data.
Huawei has confirmed that as of early March it has signed 30 5G contracts – 18 in Europe, 9 in the Middle East, and 3 in Asia-Pacific. Ericsson has publicly announced 16 5G contracts, according to its official website, five of them within Europe. Nokia has signed over 70 agreements across the globe, according to information on its website.
"Losing parts of Europe, Australia, New Zealand and the US as part of its 5G ambitions will not be fatal to Huawei's plans, as they are still likely to be a key part of 5G roll-outs in Asia and Africa," said Paul Haswell, a partner who advises technology companies at international law firm Pinsent Masons.