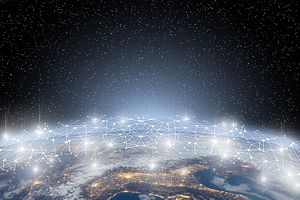 As the world continues to recover from the COVID-19 induced economic recession, the Moon administration has proposed spending 76 trillion won ($62 billion) over the next five years on the Korean New Deal to prepare the South Korean economy for the future.
The Korean New Deal is centered on two pillars – the Green New Deal and the Digital New Deal. While the Green New Deal is focused on transitioning South Korea to a net-zero emissions economy, the Digital New Deal would lay the foundations for a digital economy that will spur economic growth and innovation.
Information and communications technologies (ICT) are transforming the global economy. The new digital economy that is emerging is underpinned by technologies such as 5G, big data, and artificial intelligence (AI). IHS Markit estimates that by 2035 the 5G global value chain will be worth $3.6 trillion and support 22.3 million jobs. AI and big data are expected to have similar economic impacts.